Wildfire smoke engulfs parts of US
By Tiffany Moustakas, Editor at LinkedIn News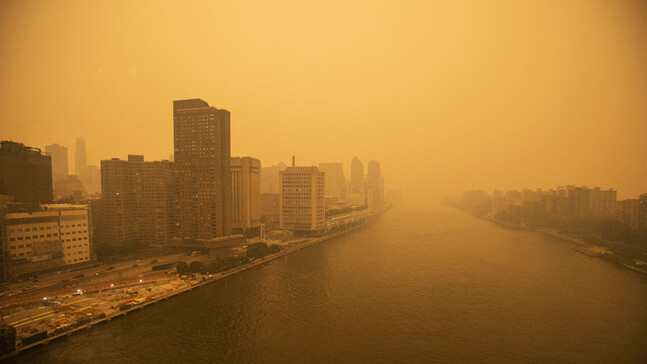 New York City topped cities worldwide for the worst air-quality Wednesday afternoon as a plume of smoke from Canadian wildfires also blanketed the Midwest, Ohio Valley, Northeast and Mid-Atlantic for a second day. Lowered visibility prompted the Federal Aviation Administration to halt some flights to LaGuardia Airport, while a total of 1,600 were delayed en route to both LaGuardia and Newark Liberty Airport by afternoon. While forecasts are for the smoke to move south and west, more than 400 uncontained wildfires north of the border have led to air quality alerts for 18 statesimpacting tens of millions of people from South Carolina to New Hampshire.
By Scott Pecoriello
Founder / CEO @ WeatherOptics Inc
Yesterday New York City ranked as the 2nd most polluted city in the world as heavy wildfire smoke from Canada caused air quality to plummet.
A powerful storm system just offshore New England is acting like a fan to the flames in Quebec, exacerbating wildfire growth and pushing smoke hundreds of miles south into the Northeast and Mid-Atlantic.
150 wildfires continue to burn – with 110 of the fires considered out of control – and will lead to even lower air quality and visibility today across the same regions of the US.
WeatherOptics has developed a wildfire API that allows you to track active fires, and will be releasing a major update this summer that will allow businesses and communities to better understand when fires are likely to develop and how they will spread.
Learn more today: https://lnkd.in/eSBamRcX
By Shikha Jain, MD FACP
President, CEO Founder Women in Medicine
The long lasting effects of pollution, poor air quality, climate change, will be felt for generations to come. The impact of the weather on our overall health, cancer risks, heart disease, neurological pathologies, mental health, and more are incalculable.
We need to do to more to address these issues if we want to work on protecting the health of our communities now, and in the future.
📷Cred my awesome brother Muneesh Jain