Uber hits first operating profit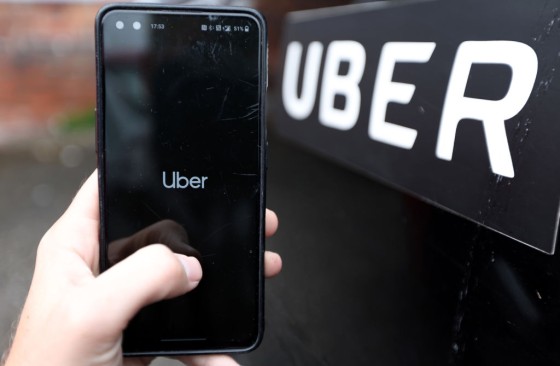 Big surprises from Uber on Tuesday, as the ride-hailing app announced its first-ever operating profit of $326 million in the second quarter. The company's net income soundly beat expectations, coming in at $394 million, instead of the projected $49.2 million loss. Driving the numbers: record ridership, with number of trips booked jumping 26% in the quarter. The company continues to dominate the U.S. ride-share market, accounting for 74% of salesat the end of June, while Lyft had only 26% — partly thanks to Uber's food-delivery service, which its competitor does not offer.
"[O]nce we get profitable, I'm going to come up with some other reason why we suck. Because that gets the team psyched up. We have an underdog mentality I never want to lose," Uber CEO Dara Khosrowshahi said in a lengthy new interviewwith Wired.
Uber has cut hundreds of jobs this year, but that's still far fewer than many other tech companies.
The company announced in July that its CFO, Nelson Chai, will step down in January— the company's highest-ranking executive to leave since Uber's 2019 IPO.
By Emma W. Thorne, Editor at LinkedIn News

Uber makes first operating profit after racking up $31.5bn of losses
Ride-hailing company reaches long-awaited landmark after years of heavy spending
Uber reported its first operating profit on Tuesday on the back of better control of costs, marking a turning point following years of heavy spending in an expensive dash for growth.
The long-awaited landmark in the ride-hailing company's finances came after it had racked up a total of $31.5 billion (€28.7 billion) in operating losses since 2014, the first year for which it disclosed details of its finances.
The company had previously undergone one of the most ambitious global expansions undertaken by a tech start-up as it tapped mountains of cheap capital to subsidise rides and grab market share.
Uber has reported after-tax profits in several quarters before, though only thanks to gains on disposals or revaluations of its equity investments.
By contrast, for the second quarter of this year, it reported $326 million in pretax earnings from its operations, a turnaround from the operating loss of $713 million suffered a year before.
Uber also issued a stronger forecast than expected for its current quarter. It predicted that earnings before interest, taxes, depreciation and amortisation would reach $975 million to $1.025 billion, compared with a Wall Street estimate of $915 million. Its bookings forecast of $34 billion to $35 billion was above the $33.9 billion predicted by analysts.
Chief executive Dara Khosrowshahi said the company's move to profitability, as well as its quarterly free cash flow of more than $1 billion, reflected "disciplined execution, record audience and strong engagement".

He added that "rigour around costs" had left the San Francisco-based group "well positioned to sustain strong incremental profit generation".
The results show how Uber has proved to be more resilient to high inflation and economic uncertainty compared with its rivals.
Lyft, which reports its second-quarter results next month, said earlier this year that it would slash its fares having steadily lost market share to Uber since the onset of the coronavirus pandemic.
Uber said on Tuesday that its second-quarter revenue grew 14 per cent to $9.23 billion, slightly less than Wall Street had expected, though the company kept its total cost growth to only 1 per cent.
Along with unrealized gains on investments, Uber reported a profit of $394 million for the quarter, or 18 cents a share, compared with a loss of $2.6 billion the year before. Analysts had been expecting a loss of 1 cent a share for the period.
Copyright The Financial Times Limited 2023