UPS strike would boost inflation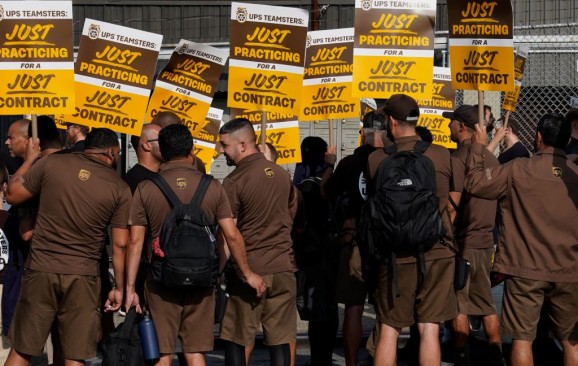 Two key challenges to the health of the U.S. economy could intensify if 340,000 UPS workers walk off the job. The annual rate of inflation, which the Federal Reserve has been battling to lower, could rise by 0.2% as a result, according to Bloomberg. In addition, a strike could cause or exacerbate supply chain disruptions. ShipMatrix reports UPS handled about 28% of the 75 million daily packages the parcel industry moved in 2022. Contract talks on a new five-year deal are set to resume next week, with August 1 looming as the deadline. The last UPS strike was in 1997.
By Alessandra Riemer, Editor at LinkedIn News

UPS Strike Could Cost U.S. Economy Billions—Here's How It Would Impact Consumers And Businesses
TOPLINE
A potential strike against the UPS delivery service by 340,000 workers could lead to slower delivery times, supply chain disruptions and higher shipping costs if the company and the Teamsters union don't come to an agreement over pay for part-time workers and cost of living adjustments by August 1—possibly causing billions of dollars of economic damage.
KEY FACTS
UPS employees deliver tens of millions of packages per day, the company says, and its competitors like FedEx, the U.S. Postal Service, DHL and other services won't be able to absorb that kind of backlog if workers walk off the job in the largest strike against a single employer in U.S. history.
A 10-day UPS strike would be the most expensive strike in at least a century, costing the U.S. economy upwards of $7 billion, a study by the consulting firm Anderson Economic Group found, including $4.6 billion in losses for customers, $1 billion in lost wages and more than $800 million in direct losses at UPS.
Packages going to rural areas with fewer alternative delivery options or coming from small businesses that can't afford to switch providers will be among the hardest hit with slower delivery times, Ohio State University logistics professor Terry Esper told Forbes, and big retailers will likely fare better because they already use a variety of delivery services.
Supply chains for things like medical gear and car parts could also be hit hard because those sectors locally rely on business-to-business shipments from wholesalers to operate, Esper said, adding that millions of daily UPS packages are used to move inventory from place to place and are "never destined to land on someone's doorstep."
Business owners are already anticipating a major disruption if the company stops shipping, Esper said, and are implementing strategies like warning customers of looming delays, bundling shipments and turning to third-party shippers and FedEx, the second-largest private package carrier, at increased costs.
Even if businesses find someone else to ship packages, many work under contract with delivery companies and last-minute switching to standard published rates could drive up costs dramatically, Esper said, and there's a chance those costs get passed onto the consumer.
CRUCIAL QUOTE
"In the event of a market disruption, no carrier can absorb all UPS volume," FedEx executives wrote in an internal company memo, according to NPR..
WHAT TO WATCH FOR
UPS said Friday it will begin training nonunion employees to step in should there be a strike, and Esper said that contingency planning could include even managers getting on a truck to deliver packages. David Levin, lead organizer of Teamsters for a Democratic Union, said Monday that the use of managers, supervisors and "scabs" will be "symbolic and not operationally meaningful."
NEWS PEG
The UPS workers' contract will expire on July 31 and 97% of union members have voted to authorize a strike if warranted, even after an agreement was reached over hot-button issues like installing air conditioning in delivery trucks amid the warmest June on record.
KEY BACKGROUND
Teamsters President Sean O'Brien told ABC the union is looking to establish a "livable starting wage" for those who work under 40 hours per week, who currently make "poverty wages." O'Brian also wants the company to "reward those" who worked through the pandemic, eliminate excessive overtime and increase the number of full-time positions. UPS said earlier this month it is "proud" of what the company has put forward in the negotiations and provides industry-leading pay and benefits for both full- and part-time employees. Talk of a Teamsters strike first started circling last September but reached a tipping point on June 5, when union representatives accused UPS of walking away from the bargaining table after presenting an "unacceptable offer." The company denied leaving and said Teamsters have "stopped negotiating." UPS workers last went on strike in 1997, when less than 1% of total retail trade sales came from online shopping, USA Today reported, a sector that had grown to 15% by the start of this year. The Teamsters union of UPS employees has also grown from 185,000 members to 340,000 since 1997, and Esper said the newfound reliance on delivery services makes today's strike infinitely more impactful than the one 26 years ago. He said the modern strikers also have the support of the public in a new way, pointing to customers who tip their drivers and provide cold drinks or snacks as reasons "the average consumer is also at the bargaining table."
BIG NUMBER
24.3 million. That's how many packages UPS says it delivers daily. USPS says it delivers 23.8 million packages each day and FedEx delivers an estimated 9.9 million per day on average.
WHAT WE DON'T KNOW
If the strike will actually happen. Negotiations have been at a standstill for more than a week, the Associated Press reported, and O'Brien said he has asked the White House not to intervene if UPS workers go on strike.
BY: Mary Whitfill Roeloffs