The best bet in retail: Strip malls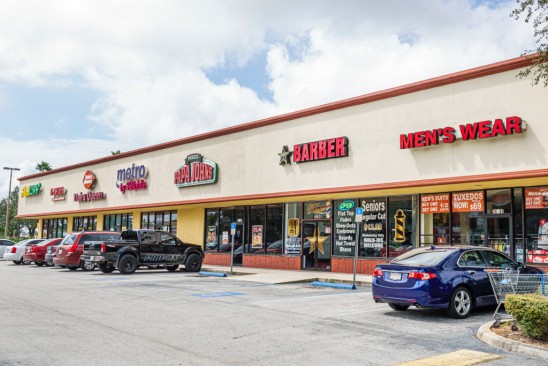 The hottest real estate right now? Strip malls. While office space sits empty and home sales slow, the suburban mainstays are seeing a physical occupancy rate of over 92% — on par with before the pandemic. With more Americans working from home, and often on flexible schedules, a local strip mall is often the closest shopping option. Lunch spots and personal-care businesses — like massage studios and dentists — are especially in demand. Even chains often found in malls, like Abercrombie & Fitch and Foot Locker, are eyeing a move to "off-mall" locations.
By Emma W. Thorne, Editor at LinkedIn News

The Hottest Real-Estate Play Is in Your Neighborhood; Unglamorous strip centers are signing leases faster than tenants can move in
Strip malls are hot.
With investor anxiety rising about types of commercial property from shiny office buildings to self-storage facilities, the low-slung structures are a rare bright spot. Retailers want to stay close to where customers are spending more time these days: their homes. The leased occupancy rate at strip center real-estate investment trusts stood at 95.3% as of the first quarter, a level last reached about eight years ago, according to real-estate advisory firm Green Street. Physical occupancy was 92.4%, right around where it was prepandemic.
The widened gap between leased and physical occupancy isn't always a good sign if it is an indicator of a delay in, for instance, landlords' ability to get a building ready. But in this market, the gap exists because landlords are signing leases more quickly than retailers have been able to move in, said Paulina Rojas Schmidt, who leads Green Street's strip center team. Lisa Palmer, chief executive officer of strip center real-estate investment trust Regency Centers REG 0.50%increase; green up pointing triangle, said at an industry conference in June that despite recession fears, tenant demand "remains really strong." Notably, bankrupt retailer Bed Bath & Beyond BBBYQ 1.05%increase; green up pointing triangle found bidders last month when its leases were auctioned.

Another sign of strength in the market: Landlords aren't having to split large anchor spaces—typically those greater than 10,000 square feet—to find occupants. While this was common in 2017 and 2018, Schmidt said a larger proportion of big-box spaces are able to find single tenants. Meanwhile, releasing spreads—a measure of the difference between the rent paid by the tenant that just left and the amount the incoming tenant is going to pay—has steadily increased since plunging in 2020. Foot traffic at strip center REITs was down just 8% from 2019 as of mid-May on a trailing four-week basis, much better than the 18% decline at mall giant Simon Property Group SPG 1.20%increase; green up pointing triangle, according to data from Placer.ai and Green Street.
One reason for strip malls' strength is the widespread shift to a flexible working environment, which means consumers are spending more time at home rather than city centers where their offices are. Conor Flynn, CEO of Kimco Realty KIM 0.05%increase; green up pointing triangle, the largest shopping-center-focused REIT, said during an industry conference in June that the flexible work environment has led to a pickup in visits to the shopping center. Some two million people left America's largest cities in 2021 and 2022. Meanwhile, around 1.3 million people migrated to suburbs and exurbs, according to a report from bipartisan public-policy organization Economic Innovation Group.
On average, office occupancy remains at about half of prepandemic levels in the 10 metro areas that Kastle Systems tracks as of the week ended July 19. That means lunch demand at restaurants near offices has shifted to those at strip centers closer to people's homes. So has demand for personal-care-type services. Schmidt said strip-center demand has been strong from businesses in that category, which includes massage and chiropractic service providers, medical laboratories and dental offices.
A January research report written by Chris Wheat, president of the JPMorgan Chase Institute, found that the number of retail establishments in city centers had declined 3.8% as of fourth quarter 2021 compared with the same period in 2019. By contrast, the number of establishments in inner suburbs rose roughly 1%. Before the 2020 pandemic, city centers saw the highest growth in establishments.
Moreover, the pandemic's boost to online shopping hasn't dented bricks-and-mortar retail demand as the industry had feared. Physical retail is being used to fulfill e-commerce orders and returns. Having a store near homes makes it easier for consumers to, say, order items online and then to pick up or return in stores. Click-and-collect sales are expected to comprise 8.5% of online retail sales this year, according to an estimate from eMarketer. There has also been a lack of new supply for such shopping centers, which has helped drive up demand, according to Michael Goldsmith, equity analyst at UBS.
Even Abercrombie & Fitch ANF 


hk2j0i-ChicletChange e1vl9ktx3″>2.62%increase; green up pointing triangle, a brand strongly associated with malls, has said its store base will likely shift more off-mall as it reviews its real estate. Macy's M 0.12%increase; green up pointing triangle said on its last earnings call in June that off-mall retail is the "dominant in-person shopping method" for U.S. consumers. Signet Jewelers SIG 3.97%increase; green up pointing triangle said at its investor day in April that off-mall stores see higher revenue growth and attractive economics compared with malls, noting that these stores also have lower occupancy costs. Others shifting off-mall include Foot Locker FL 3.67%increase; green up pointing triangle and Bath & Body Works BBWI 1.02%increase; green up pointing triangle.
"I'm surprised by the breadth of retailers that are exploring strip centers," said John Worth, executive vice president of research and investor outreach at the National Association of REITs, or Nareit.
That might help explain why an index of shopping center REITs is up 3.7% from a year earlier, vastly outperforming a broader REIT index by 12.7 percentage points. REITs generally tend to become less attractive investments as interest rates increase because their dividend yield becomes less enticing relative to Treasury yields. Still, strip center REITs are trading at a valuation—measured as a multiple of funds from operations—17% above their five-year average, while malls are commanding a 13% premium over the five-year average, according to UBS. By contrast, office REIT valuations are running 26% below the historical average. Strip-center-focused REITs include Kimco Realty, Regency Centers and Federal Realty FRT 0.36%increase; green up pointing triangle. Regency, whose stock has outperformed peers, is seen as a defensive name because most of its properties are anchored by grocery stores, according to UBS's Goldsmith.
Strip malls are no bargain, but, given their strong balance sheets, it might take a plunge in retail spending, a mass migration back to the office, a sudden overbuild of strip malls or a sharp increase in interest rates to throw them off their foundations.
By Jinjoo Lee, WSJ