Ryan Reynolds buys piece of F1 team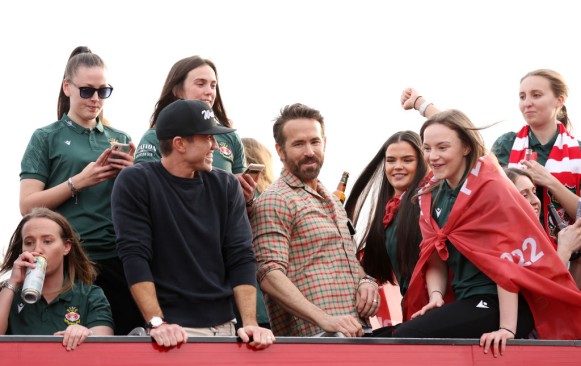 Actors Ryan Reynolds, Rob McElhenney and Michael B. Jordan now own a piece of Formula One racing team Alpine, a move that comes less than three years after Reynolds and McElhenney's much-discussed purchase of the Welsh soccer team Wrexham. RedBird Capital Partners – owner of baseball's Boston Red Sox, soccer's Liverpool and Toulouse, as well as the NFL's Dallas Cowboys – are the other partners in the $218 million 25% stake, as is soccer team AC Milan owner Otro Capital. The Renault-owned racing team hopes all the combined sports expertise and cash will help it boost marketing and rise up in the rankings.
Alpine currently sits fifth in the Formula One standings.
Wrexham was the subject of a documentary and global interest after being promoted to League Two after a 15-year hiatus following Reynolds and McElhenney's purchase. (Jordan was not part of that deal.)
By Jessy Bains, Editor at LinkedIn News

Ryan Reynolds is one of the greatest storytellers of our generation, and he found the perfect canvas: Sports.
Let me explain…
Ryan Reynolds and fellow actor Rob McElhenney purchased Wrexham AFC for $2.5 million.
Wrexham was in the 5th division of the English football pyramid and had almost no chance of getting promoted to the Premier League.
But Ryan Reynolds and Rob McElhenney didn't care.
They immediately launched "Welcome to Wrexham," a documentary-style TV show on FX modeled after Netflix's F1 series Drive to Survive.
And it was a huge success.
Wrexham made more money off one season of that show (~$3.2 million) than its total valuation when purchased months earlier ($2.5 million).
~$400k per hour of content
+ 8-part series
= ~$3.2m in revenue
And the results were even more significant on the backend.
Wrexham has since been promoted up one league, and their social media accounts have exploded in popularity.
Twitter: 45,000 to 532,000
Instagram: 27,000 to 975,000
TikTok: 0 to 1,400,000
And Wrexham has turned this increased attention into tangible revenue.
Wrexham has signed kit sponsorship deals with several companies:
• TikTok
• Expedia
• Vistaprint
• Aviation American Gin
• United Airlines
And the number of fans buying season tickets has nearly tripled:
2019: 2,609
2021: 5,892
2022: 6,820
So the local community is also buying in.
And with Wrexham AFC's valuation dramatically increasing simply through the power of community, storytelling, and marketing, Ryan Reynolds and Rob McElhennery are doubling down on sports.
The two actors have teamed up with Otro Capital, RedBird Capital, and Michael B. Jordan to buy a 24% stake in the Alpine Formula 1 team.
• 24% stake
• $218 million invested
The deal values Alpine's Formula 1 team at $900 million.
But more importantly, it provides Ryan Reynolds, Rob McElhennery, and Michael B. Jordan with a fresh opportunity to increase enterprise value by driving meaningful revenue to the Alpine F1 team.
And some serious star power certainly won't hurt, either.
BY JOE POMPLIANO

Not content with his ventures in soccer, alcohol, telecoms and — of course — acting, Ryan Reynolds has expanded his portfolio to include a stake in the Formula 1 team Alpine.
The Hollywood A-lister, alongside his Wrexham co-owner Rob McElhenney and actor Michael B. Jordan, joined an investor group in taking a 24% equity stake in the Formula 1 team in a €200m deal ($218m), valuing the team at ~$908m.
Alpine, which is owned by French automaker Renault, currently sits mid-table in the constructor standings. For the owners, the deal seems like a no-brainer.
Even if not involved in the day to day, the investment from Reynolds and co might bring a celebrity spotlight onto the team — just as Renault tries to raise the visibility of its Alpine electric vehicle line.
The deal comes during a period of growth for the sport as a whole. Since its acquisition by Liberty Media in 2017, Formula 1 has been reinvigorated.
Partnering with Netflix for the gripping docu-series "Drive to Survive", Liberty has looked to grow the sport's footprint in the US. New races like the Miami Grand Prix, which debuted in 2022, and the upcoming inaugural Las Vegas Grand Prix have brought a legion of American fans.
A burgeoning race calendar, and growing global audience, have filled the coffers of F1's owners. The group's revenue reached $2.6 billion last year — up nearly $800m since Liberty Media's acquisition. Some 45% of that revenue gets split amongst the teams according to performance, size and longevity in the sport. If Reynolds can replicate his success with Wrexham at Alpine, his foray into the world of Formula 1 could be a masterstroke.
BY JACK PILCHER