SCOTUS ruling could change DEI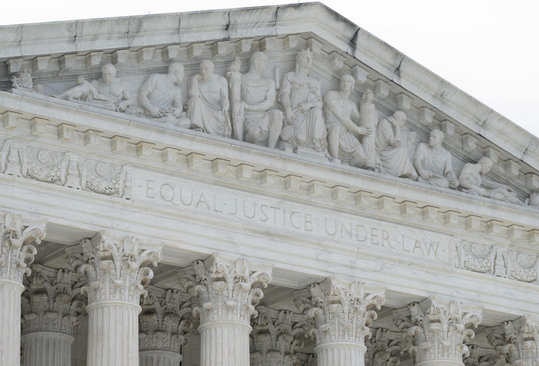 A Supreme Court ruling on race-conscious admissions policies may affect companies' hiring and promotion decisions — and also their diversity, equity and inclusion initiatives, The Wall Street Journal reports. A decision in cases involving Harvard University and the University of North Carolina — expected by the end of the month — won't pertain directly to employers. But any restriction on affirmative action in college admissions programs could stir up legal challenges to DEI and hiring and promotion policies. Some companies, such as Salesforce and PPG Industries, are already considering how to maintain diversity goals regardless of the SCOTUS outcomes.
While federal law prohibits organizations from considering race and other characteristics in employment decisions, many companies developed programs to broaden representation.
By Cate Chapman, Editor at LinkedIn News

SCOTUS affirmative action decision's impact on corporate America
Why it matters: If overturned, corporate hiring and recruiting practices could be next to land in the crosshairs.
Catch up quick: The high court is weighing whether colleges can explicitly consider applicants' race in admissions.
Those in favor believe affirmative action is critical for ensuring diversity, while opponents believe it discriminates against white and Asian students.
The big picture: Some conservative organizations have already begun to apply the discriminatory argument to U.S. companies.
America First Legal has filed complaints with the Equal Employment Opportunity Commission and asked for an investigation into the hiring practices of such companies as BlackRock, Morgan Stanley, McDonald's, Starbucks, Twilio, Hershey and Kontoor Brands.
"[Companies] should expect some litigation as an outcome based on what we think may happen," Valerie Capers Workman, chief legal officer for recruiting platform Handshake, told Axios. "That doesn't mean that the litigation will have merit, but it does mean that companies will probably have to spend some money defending claims that they otherwise would not have."
State of play: According to HR Dive, all Fortune 100 companies have publicly championed DEI commitments.
HR, communications and in-house counsel Axios spoke with say they are monitoring the case closely and are preparing messaging based on the scope of the ruling.
"One of the lessons from the Dobbs decision is that it's very hard in the immediate aftermath of a divisive decision to have a communication that doesn't appear to be taking one side or the other," a communications professional in the financial services industry told Axios.
"No matter what the decision is, we're going to feel the same way about how important DEI is to us as a firm, so communicating that to internal stakeholders is the priority, and that can be done in advance of the decision."
Between the lines: Companies could see an uptick in reverse discrimination claims from employees if the Supreme Court rules against race-conscious admissions, Andrew Turnbull, a partner at Morrison Foerster, told Axios.
"When people hear affirmative action has been overruled, they may say, 'Well, why is my company still doing diversity programs?'" Turnbull, who represents companies on labor and employment litigation, said.


🥊 Reality check: According to a Harvard study, U.S. states that eliminated affirmative action hiring requirements have seen a significant decrease in workplace diversity, compared to the states that kept affirmative action programs in place.
Asian female, Black female and Hispanic male workers were most impacted by the statewide affirmative action bans, the report found.
What they're saying: Now is not the time to shy away from diversity initiatives, said Libi Rice, chief communications officer of the Executive Leadership Council, a nonprofit focused on advancing opportunities for Black executives.
"This is an opportunity for companies to look at where they are right now, in terms of their recruiting of Black talent, where they're looking for Black talent, what they're doing to retain Black talent in their organizations, and to make sure that they continue to be authentic in their actions and continue to push forward, as opposed to letting a ruling like this shake them," said Rice.
"Companies do not invest in DEI to favor a certain group of individuals over another group of individuals," said Aniela Unguresan, founder and CEO of Edge Certification. "Companies invest because diverse, equitable and inclusive workplaces are more agile, more resilient and are sustainably more successful than organizations [that] do less of those investments."
What we're watching: Much depends on the decision itself, its scope and the precedent it sets for lawsuits that could follow.
There will be political ramifications following the decision, but it could also present an opportunity for chief diversity officers to expand their responsibilities and reframe the DEI function.
"A lot of professionals are looking at changing the titles of diversity officer to chief workforce transformation officer— and in some ways, it's a positive outcome, because it could mean that the DEI role could be expanded," Capers Workman said. "It could be a larger, more encompassing role that encompasses not just diversity initiatives, but also the entire workforce culture."
Plus, the ruling may spur some companies to actually bolster their DEI initiatives, Turnball said.
"Not that they're looking to do anything unlawful, but I think you will see some companies double-down on their diversity initiatives and say, 'We believe in this, we don't care what the states are doing, we don't care what the Supreme Court is doing.'"
BY   Eleanor Hawkins and Erin Doherty