Pride decor behind Starbucks strike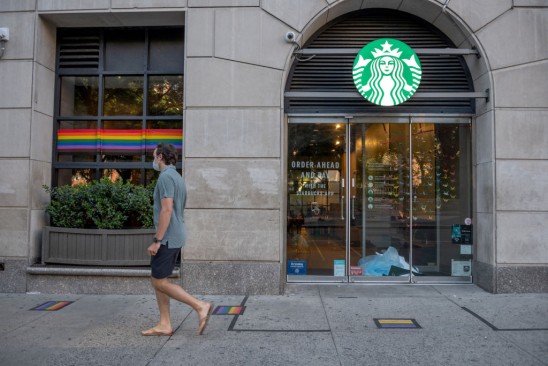 Starbucks workers at 150 locations are set to strike "over the course of the next week," according to their union, Starbucks Workers United. At issue: a dispute over Pride decor, which the union says the company took down at several shops earlier this month. Starbucks denies the claim, saying its policy — that stores are allowed to decorate however they wish as long as they adhere to safety guidelines — is unchanged. The union says it has documented decor-related incidents in 22 states and has filed a formal complaint over the issue.
Corporations' Pride displays are under close scrutiny following backlash over Target's Pride merchandise and a Bud Light collaboration with a transgender influencer.
By Saundra Latham, Editor at LinkedIn News

Starbucks union says workers at more than 150 stores will strike over Pride decor
Strikes at some organized U.S.
Starbucks
 stores started Friday in Seattle, after the coffee giant and the union representing baristas publicly clashed over claims that the company was not allowing Pride month decor in cafes.
The union, Starbucks Workers United, said more than 150 stores representing nearly 3,500 workers have pledged to join the strikes, which will take place over the next week. More than two dozen additional stores are voting on strike authorizations and the count could rise to nearly 200 stores by the end of the week, the union said.
Last week, the union alleged dozens of U.S. stores were not allowing employees to decorate for Pride month, accusations that suggested a wave of backlash against LGBTQ+ inclusion had reached a perceived liberal bastion in corporate America. Starbucks said it had not revised its guidelines for store decorations.
"We want to be crystal clear – Starbucks has been and will continue to be at the forefront of supporting the LGBTQIA2+ community, and we will not waver in that commitment!" Starbucks CEO Laxman Narasimhan and Executive Vice President and President for North America Sara Trilling said in a statement Friday.
"Despite today's public commentary, there has been no change to any of our policies as it relates to our inclusive store environments, our company culture and the benefits we offer our partners. We continue to encourage our store leaders to celebrate with their communities including for U.S. Pride month in June, as we always have," they added. The executives said they "strongly disapprove of any person or group, seeking to use our partners' cultural and heritage celebrations to create harm or flagrantly advance misinformation for self-interested goals."

In response to the strike pledges, the company earlier said, "Workers United continues to spread false information about our benefits, policies and negotiation efforts—a tactic used to seemingly divide our partners and deflect from their failure to respond to bargaining sessions for more than 200 stores."
In a post on its website, Starbucks shared a June 14 letter from its VP of Partner Resources, May Jensen, to Workers United President Lynne Fox demanding the union "cease from knowingly misleading partners."
Workers United has alleged instances in at least 22 states when workers have not been able to decorate, pointing to social media accounts where workers have documented their claims. The union said it has filed an unfair labor practice charge against Starbucks over what it alleges is a change in policy. Some of the strikes in the coming days are tied to that claim.
Not all of the stores that will strike had issues related to Pride decor.
Parker Davis, a 21-year-old barista in San Antonio, Texas, works at a store that has not had a dispute around Pride decor but will be a part of the strikes.
"There's a large percentage of partners at my store who are part of the LGBTQ community, and who feel that Starbucks' continued actions with trying to limit or take down pride decorations just doesn't make sense with what the company has done in the past," Davis said.
Davis told CNBC he expects several picketers, but said it was unclear if the store would be able to open during the strike.
The public back-and-forth over decorations to celebrate Pride month comes as major brands including Targetand Bud Light have been targeted for supporting the LGBTQ+ community. In both of those cases, the companies faced opposition from conservative consumers to partnerships with or merchandise for transgender people — and then saw backlash from more liberal customers for perceived deference to the critics.
In Oklahoma, workers were told restrictions on decorating were out of a concern for safety after recent attacks at Target stores, the union said.
Protesters in Seattle join a Starbucks Workers United strike over what the union alleges is a change in policy over Pride décor in stores. Starbucks maintains it has not changed its policies and encourages stores to celebrate within the company's security and safety guidelines, while the union alleges workers in 22 states where workers have not been able to decorate.
Rob Weller | CNBC