Mexico passes China in US trade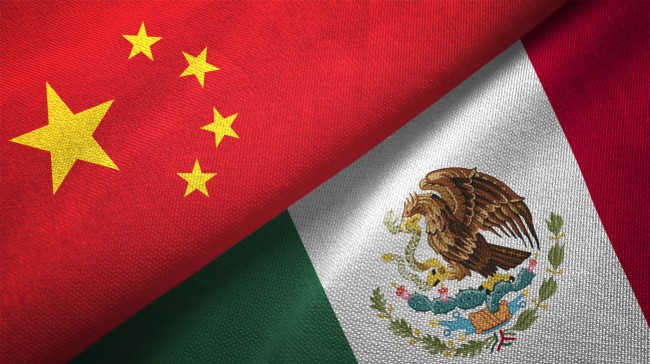 After nearly a decade, China is no longer the United States' top trading partner. That title now goes to Mexico, with Canada right behind it. China's getting bumped from the top two spots can be traced to the Trump administration's 2018 import tariffs, which remain in place today; pandemic supply chain problems also played a role. In addition to reflecting an increasingly troubled Sino-American relationship, the Mexico-China swap points to "a real shift in the dynamics of the global economy — away from prioritizing low prices and greater efficiency," writes Axios.
Reduced trade with China could mean higher costs for U.S. consumers.
By Emma W. Thorne, Editor at LinkedIn News

Mexico surpassed China as the top U.S. trading partner
U.S. trade with Mexico and China
Monthly; January 2000 to May 2023
Green line chart showing total U.S. trade with Mexico and China from January 2000 to May 2023. Mexico began with $17 billion and China with $7.7 billion. At the beginning of the COVID pandemic, both dropped by approximately $30 billion, but quickly got back on track. They grew, with Mexico at $69 billion and China at $47 billion.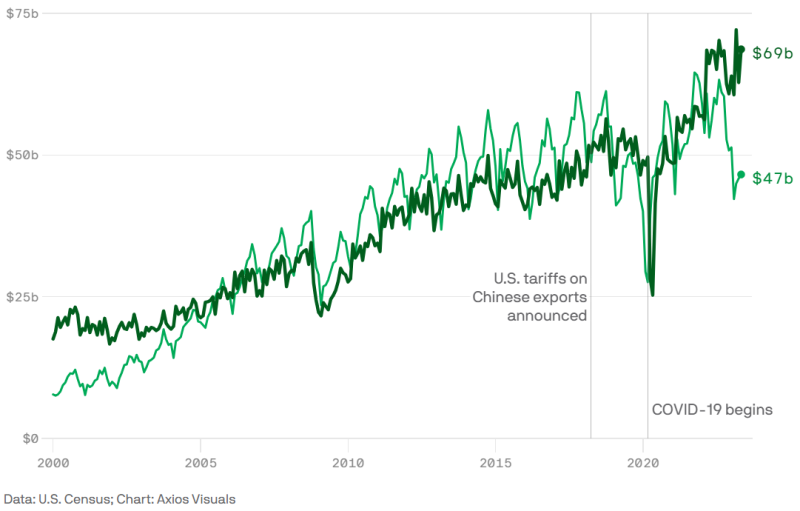 Mexico supplanted China this year as the United States' top trading partner.
Why it matters: The milestone reflects a real shift in the dynamics of the global economy — away from prioritizing low prices and greater efficiency (via super fragile supply chains) to something more nuanced.
"Today's global economic relationships encompass a myriad of concerns, among them national security, climate policy and supply-chain resiliency," writes Luis Torres, senior business economist at the Dallas Fed in a piece out this week highlighting the change.
Declining trade with China means rising costs for U.S. consumers and companies.
It also reflects worsening diplomatic relations between the U.S. and China — which is concerning for reasons that go beyond economics.
Zoom out: The decline of China as the country's top trading partner comes after years of worsening U.S.-China relations and reflects Mexico's rise in manufacturing — hastened along by a new push to "nearshore" that work closer to the U.S.

The auto industry accounts for nearly a quarter of the total manufacturing trade activity between the U.S. and Mexico.
China exports more to the U.S. than the U.S. sends to China, but trade with Mexico is more balanced between imports and exports.
For example, in some industries, products are started in U.S. plants, and finished in Mexican factories before coming back into the U.S. "We complement each other," Torres tells Axios.
Meanwhile: The Biden administration is pushing to improve its relationship with China.
Last week, Treasury Secretary Janet Yellen met with China's premier, Li Qiang, a top economic aid to President Xi Jinping.
More visits from U.S. officials are expected over the summer.
Catch up quick: China emerged as the U.S.'s top trading partner courtesy of its entry into the World Trade Organization in 2001 — it surpassed Canada in 2014.
But trade with China started declining after the Trump administration imposed restrictive tariffs on Chinese imports in 2018 — and China responded with retaliatory tariffs. They further declined when the pandemic twisted up supply chains around the globe.
State of play: The Biden administration left those tariffs in place. Today, the average U.S. tariff on Chinese imports is 19.3%, while China's average tariff on U.S. imports is 21.2%, per data cited by the Peterson Institute for International Economics.
This is far more than the 9% paid by other WTO members, who have "most-favored-nation" status, Torres writes.
Mexico and the U.S. trade with far fewer barriers, part of the free trade deal formerly known as NAFTA, renegotiated as the United States-Mexico-Canada Agreement in 2020.
By Emily Peck, author of Axios Markets