Making commutes easier to RTO
By Tiffany Moustakas, Editor at LinkedIn News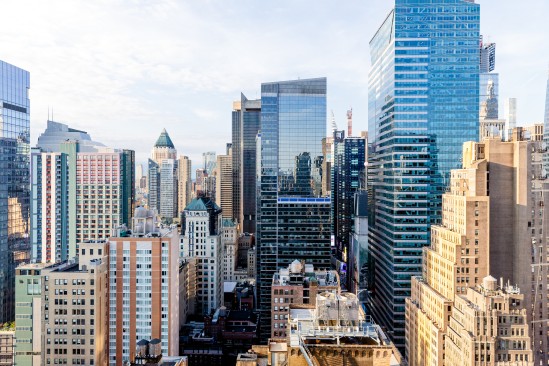 As companies continue leasing office space to bolster their employees' return to offices, some are prioritizing what makes for the most convenient commutes, Curbed writes. Commercial leases have increased in New York City's Grand Central area, for example, where 225,000 square feet each month has been rented — the most in Manhattan — since the beginning of 2022, according to real estate firm CBRE. The 2010s question of "Will I play ping-pong or foosball on my break?" has been largely replaced with the post-pandemic "How quickly can I get home?" with Curbed noting easy commutes are now "universally appealing."
Average rent near Grand Central is at $67 per square foot, which is lower than the average rate in the midtown area at $83 per square foot, per CBRE.

As we continue to adapt to the #FutureOfWork, we are witnessing a profound shift – the devaluation of commercial real estate due to the rise of #RemoteWork. A recent article by Fortune underscores a predicted 44% decline in NYC office values by 2029, with nationwide value destruction of $506 billion from 2019 to 2022.
This isn't just about vacant office spaces. It's about the ripple effects on urban planning, city budgets, corporate cultures, small businesses, and public policies.
Key Takeaways:
> Remote work is leading to a significant decrease in lease revenue, occupancy, lease renewal rates, and market rents in the office sector within commercial real estate.
> Researchers predict a 44% drop in New York City office values by 2029, translating to a $506 billion loss in value nationwide from 2019 to 2022.
> There is a direct correlation between companies' remote work policies and their leased office space reductions.
> The impact of remote work on office property values is not uniform across the country or across properties. Higher quality buildings and cities with less exposure to work from home are seeing smaller declines.
> The most significant declines in property values were observed in New York City, San Francisco, Los Angeles, San Jose, and Boston, which could potentially affect local governments that heavily rely on property taxes.
As #ThoughtLeaders, #CEOs, #VentureCapitalists, #PrivateEquityDirectors, and #SeniorHRLeaders, it's time to engage in meaningful discussions about these changes. How will this reshape your work, your cities, and your companies?
#OfficeSpace#CommercialRealEstate#UrbanPlanning#CityBudgets#CorporateCulture#SmallBusinessStrategy#PublicPolicy#StateBudgets#LocalBudgets#RealEstate#Economy#Workforce#WorkplaceTrends#FutureTrends#Leadership#BusinessStrategy#RemoteWorking#WorkFromHome#BusinessImpact#EconomicImpact
The $500 billion 'Office real estate apocalypse': Researchers find remote work's effect even worse than expected
fortune.com

BY
📢 Exciting News for Downtown Revitalizations Across the country! 🏙️
Seattle officials are closely examining the impact of one company's decision to call its workers back to the office, and the findings may hold valuable insights for major cities nationwide. E-commerce giant Amazon's back-to-office mandate has sparked a surge of activity in and around downtown Seattle, leading to the highest levels of office foot traffic since the pandemic began over three years ago.
According to data provided by the Downtown Seattle Association and compiled by analytics firm Placer.ai, in May, 51% of all daytime workers were back at their worksites from Tuesday to Thursday, representing a significant increase compared to pre-pandemic levels. The Denny Triangle, which encompasses most of Amazon's corporate headquarters, saw the largest boost in foot traffic.
Notably, overall daytime foot traffic downtown, including tourists and visitors, rebounded to approximately 92% of May 2019 levels, with a 10% increase over May of last year. Midweek traffic in downtown offices experienced a remarkable 9.5% rise from the prior month and an impressive 38.7% jump from the same period last year.
As elected officials in major cities across the country seek ways to revitalize their downtown areas, the Seattle study sheds light on the positive effects of employees returning to the office. Increased foot traffic bolsters tax revenue, reduces crime rates, and breathes new life into local businesses, such as restaurants and stores, that cater to office workers.
While challenges remain, including lower foot traffic compared to pre-pandemic levels and ongoing discussions about work flexibility, the positive impact of Amazon's back-to-office policy is undeniable. The Downtown Seattle Association recognizes this milestone, expressing excitement about welcoming thousands of office workers back and setting the stage for a vibrant summer season of events.
Seattle's experience provides valuable lessons for cities like Chicago, where plans are underway to convert older office buildings into residential spaces, and Washington, D.C., where officials are urging more federal workers to return to offices. San Francisco is also taking steps to stimulate commercial development.
Ultimately, the return of office workers serves as a vital pillar for downtown economies, injecting life into public spaces, supporting local businesses, and bolstering the arts and cultural scenes. As we witness the positive effects in Seattle, it's encouraging to see how one company's decision can contribute to the revival of an entire local economy.
#DowntownRevitalization #WorkplaceRevival #CityEconomy #OfficeFootTraffic #ai #stage #work #experience #data #development #like #events #analytics #economy #amazon #tax #commerce #restaurants
Amazon and Seattle Show What Can Happen When a Big Employer Calls Workers Back to the Office
costar.com