European stores head to US malls
By Melissa Cantor, Editor at LinkedIn News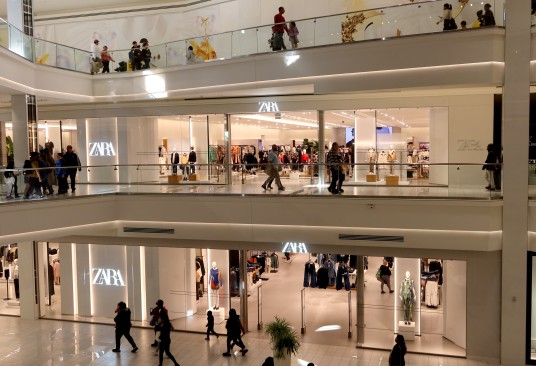 International brands want a bigger presence in American malls. Mango, Zara, Primark, Lego and Ikea are just a few of the European retailers plotting big U.S. expansions, The Wall Street Journal reports. The lure is clear: U.S. retail spending totaled $7.1 trillion last year. But why now? Compared to much of the world, the economic outlook for the U.S. is "upbeat," and Americans appear increasingly receptive to foreign retailers, executives told the Journal. In addition, many Western brands pulled out of Russia — once a key growth market — following its invasion of Ukraine.
Mango wants to open 40 stores stateside by the end of 2024, Zara intends to open or refurbish 30 outposts by 2025, and Primark is primed to add dozens of new U.S. stores in coming years.
Lego is investing $1 billion in its first U.S. factory, and Ikea is spending twice that much to debut 17 new stores here.
By Brittain Ladd
Supply Chain, Warehousing, Distribution and Logistic
FOREIGN BRANDS ARE INVADING AMERICA AND THAT'S GOOD NEWS FOR CONSUMERS
According to the The Wall Street Journal article I've attached, foreign brands are turning to America for expansion. Among the brands investing in opening stores are MANGO, UNIQLO, ZARA SA, the LEGO Group, Primark, and many others. IKEA is so happy with their growth prospects in the U.S., they're investing $2B to open 17 more stores.
Total U.S. retail spending came in at $7.1 trillion last year, more than any other country. Although consumers are feeling the affects of inflation and layoffs have increased, spending by consumers remains strong.
What I find interesting is that the company Reliance Retail, a division of India-based Reliance Industries Limited, has yet to announce plans to enter the U.S. market. I think that's a mistake.
Founded in 2006, Reliance Retail has grown to become India's retail leader across electronics, fashion, pharma, health and beautify.
Grocery is a massive area of growth for the company. Reliance Retail operates multiple store brands and it runs the quick commerce company, Dunzo and the subscription-based hyperlocal delivery platform, Milkbasket.
JioMart is the online shopping platform by Reliance Retail Limited, was launched in 2020 in 200+ cities and towns across India. JioMart is a versatile online shopping platform with an extensive selection of products across multiple categories, including groceries, fashion and lifestyle, consumer electronics, home and kitchen goods, general merchandise, and handicrafts.
Reliance is also the leading investor in the robotics and automation company, Addverb. Addverb entered the U.S. market in 2022 and they've been successful selling their automation and software solutions to customers. Addverb has solutions that can be utilized by companies across different industries.
I strongly advise executives from Reliance, JioMart, and Addverb to create an integrated solution focused on the needs of small to midsize regional grocery retailers and independent grocery retailers. For example, white labeling a digital front end for online grocery ordering and providing an automated solution via Addverb for warehousing, inventory management, fulfillment, and curbside grocery pickup. Addverb does all of their own software coding which gives them an advantage in the market.
An interesting idea is for Reliance to operate in a way similar to Amazon Web Services (AWS). Reliance can provide a low-cost hosting and digital solution while also providing access to AI, retail, supply chain, logistics, and transportation solutions.
I also encourage Walmart to explore installing Addverb's micro-fulfillment technology inside their stores.
All roads and ocean lanes appear to be leading to the U.S. Now is the time for India's leading retailers to enter the market. China has already arrived via SHEIN and Temu. Now let's see what India can do.
#retail #microfulfillment #groceryindustry #logistics #india
The Global Brands Coming to a Shopping Mall Near You
wsj.com • Subscription may be required
https://www.wsj.com/articles/the-global-brands-coming-to-a-shopping-mall-near-you-a943b011?mod=mhp

By Aaron Cleavinger, MBA, CPSM, CPM
Elite Executive Recruiter (LI Top 1%)
🛍️ Did you know that 75% of U.S. shoppers spend more with brands they perceive to be authentic?
The newest research from Asendia, a leader in international e-commerce and mail delivery solutions, shows that American shoppers are valuing authenticity more now than ever before.
This is due to the growing trend of conscious consumption and is becoming a crucial factor in generating revenue and loyalty.
Authenticity is now a key new driver of revenue and loyalty for U.S. shoppers \| Retail Dive
retaildive.com • 4 min read
https://www.retaildive.com/press-release/20230414-authenticity-is-now-a-key-new-driver-of-revenue-and-loyalty-for-us-shoppe/