'90s toy Furby returns to shelves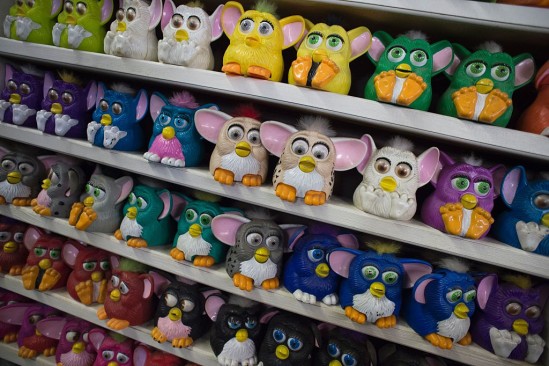 Iconic — and terrifying to some — '90s toy Furby is coming back with a new look. The last Furbys were sold in 2016, and this current iteration coincides with its 25th anniversary, when it became a phenomenon and sold more than 40 million units worldwide within 3 years. The updated toy has features like voice activation, and as a relief to parents: an off switch. Furby's return comes as Hasbro has reported low sales, predicting in April that the toy and games market will either decline or remain flat in 2023, BBC News writes.
By Tiffany Moustakas, Editor at LinkedIn News

Furby: Toy giant Hasbro brings back iconic robotic creature
US toy giant Hasbro has brought back the iconic Furby robotic creature, which was hugely popular when it was launched a quarter of a century ago.
The firm hopes a new generation of children will "discover their own curious little creature".
The new Furby has its familiar bulbous eyes, yellow beak and colourful fur. It also speaks in gibberish and responds to hugs, pats and tickles.
The announcement comes as the toy industry faces a slowdown in demand.
"Over the past few years, we've done a lot of research to understand what kids would want to see in a new Furby," said Kristin McKay, a vice president and general manager at Hasbro.
The new toy is programmed to have more than 600 responses. It can react to commands, mimic sounds, dance and be "fed".
Barney's reboot leaves fans bemused by his new look
Parents buying more toys and games for themselves
Furby, which was originally launched in 1998, quickly became popular around the world.
In the first three years after being launched, more than 40 million of them were sold, Hasbro says.
The first Furby had infrared eyes which allowed them to communicate with each other.
The toy could also "listen" to conversations, and could, with a pat on the head, be taught to say a selection of words.
Furby has been revamped over the years, including its infrared eyes being replaced with two small LCD screens.
Hasbro also developed a smartphone and tablet app, which could translate Furby's warblings into English.
However, as the Furby phenomenon faded it was retired in 2016.
The relaunch of Furby comes as the toy maker attempts to boost lacklustre sales.
In its latest quarterly earnings, released in April, Hasbro said it expected the toy and games market to remain flat or decline this year.
For the first three months of the year, the maker of the iconic Monopoly board games reported a 14% drop in net revenue, with sales of its NERF blasters, Play-Doh and Peppa Pig toys falling.