How to Install and Use the Facebook Pixel: A Guide for Business Owners
Ever heard of the Facebook pixel?
Are you thinking about or currently using Facebook ads to advertise your business?
Would you like to see how the Facebook pixel can help optimize your ads delivery for specific goals?
In this article, you'll discover what the Facebook pixel is, how to install, activate and use the Facebook pixel
and most importantly WHY you should use the Facebook pixel.
What Is the Facebook Pixel?
The Facebook pixel is a piece of code you place on your website. The pixel allows you to to track visitors from your site to Facebook so you can build targeted audiences and then run highly targeted ads to those website visitors. It's called retargeting, more about that later.
Tip. It's important to install it before running Facebook ads.
Each Facebook ad account receives one default pixel to use. However, Facebook has created different types of pixels depending on your needs.
The genius of the Facebook pixel is that you can customize it to meet very specific marketing objectives.
Below is just a few of the different types of pixels you can add.
View Content: Place the View Content pixel on a video, blog or product page to track views of a particular piece of content.
Ecommerce: If you sell a bunch of different items, like Amazon,  in other words an ecommerce site, you can place the search pixel on the search results page of your site. For example, if someone is searching your site for "rubber duckies," you can add that term to the code for that results page.
Thank you pages: Use the Lead pixel on your thank-you pages after your prospects have optin for your free lead magnet or signed up for your webinar.
Registration pages: Use the Complete Registration event pixel code to track registrations to your webinars or events.
Can you see how utilizing these different pixels allow you to gather data that helps you create successful Facebook ads and learn more about the people engaging with your website?
How to create a Facebook pixel and add it your website

Now that you know what you can track, and why you would want to do so, it's time to create your pixel and put it to work on your website.
Step 1: Create your pixel
1. From your Facebook Ads Manager, click the hamburger icon (≡) and choose Pixels.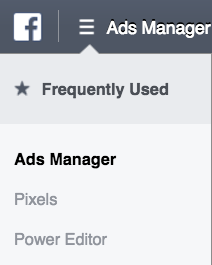 2. Click Create a Pixel.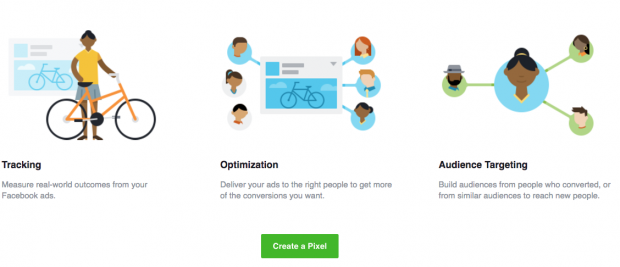 3. Name your pixel, accept the terms, and click Next. When choosing the pixel's name, remember, that you only get one pixel for each ad account, so the name should represent your business, rather than a specific campaign got it?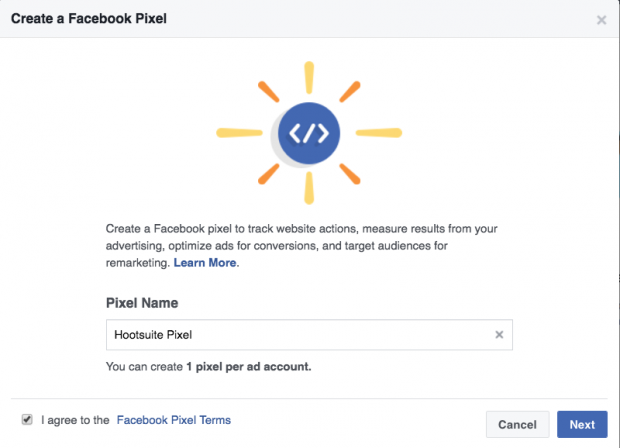 Step 2: Add the pixel code to your website
To put the pixel to work gathering information on your website, you now need to install some code on your webpages. There are two ways to do this depending on the tools you have incorporated into your website. We'll use the copy-and-paste method here. The other option is to use an integration or tag manager.
1. Click Copy and Paste the Code.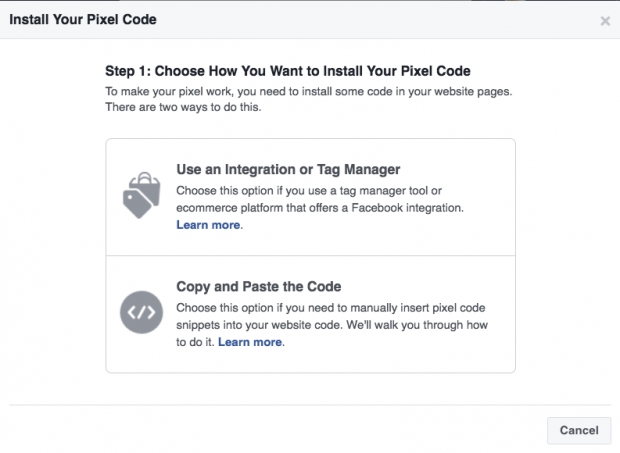 2. Copy and paste the pixel base code into the header code of your website—that is, post it after the <head> tag but before the </head> tag. You need to paste it into every single page, or into your template if you're using one. When you're finished, click Next.


3. Copy. Copy the appropriate event code based on the actions you want to track on your website. For custom conversion code, click Custom Event. This Facebook help article can help you figure out which type of setup is best for you: basic, recommended, or advanced.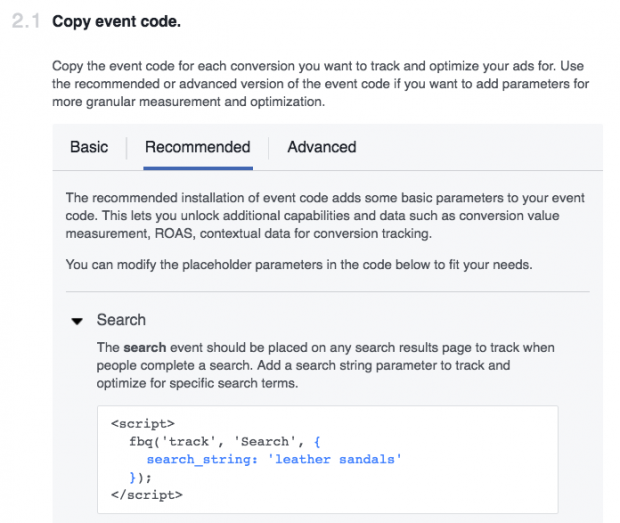 4. Paste the event code in the appropriate location on your webpage based on the action you want to track. It should go just below the </head> tag for a new page that opens as a result of the tracked action (like a thank you page). Or, you can attach the code to specific HTML elements like buttons that trigger actions within a page. When you're done, click Next.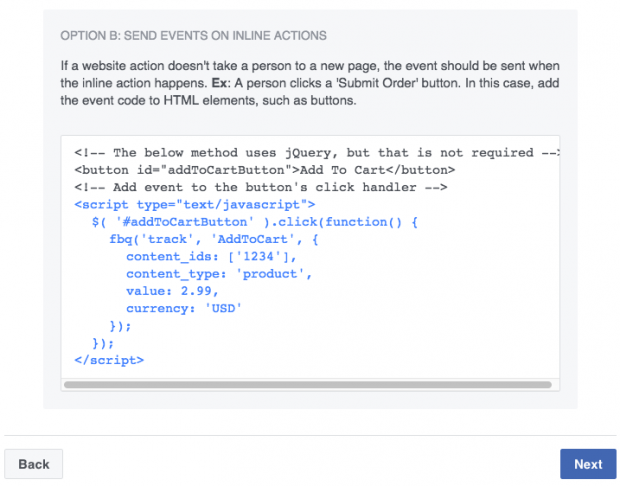 Step 3: Confirm your Facebook pixel is working
Before you start relying on the data from your Facebook pixel, you should confirm that it's working properly.
1. Download the Facebook Pixel Helper extension for Google Chrome.
2. Visit the page where you have installed the Facebook pixel. If the extension finds the pixel, the </> icon will turn blue, and a popup will indicate how many pixels are found on the page. The popup will also tell you if your pixel is working properly. If not, it will provide error information so you can make corrections.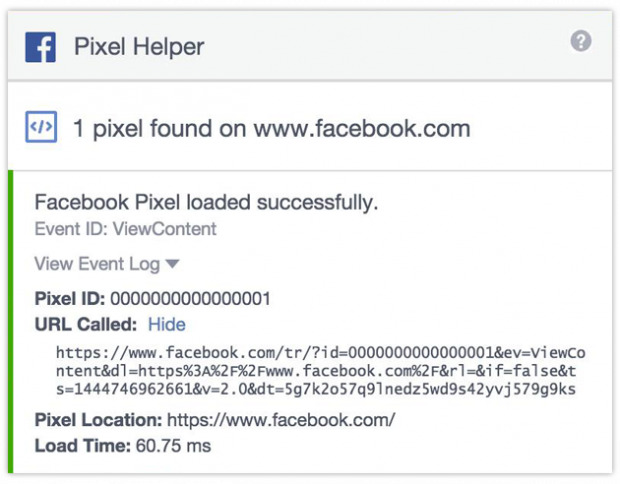 Please Note: The current Facebook pixel combines two older pixel versions: the conversion tracking pixel and custom audience pixel. Facebook discontinued the conversion tracking pixel on February 17, 2017. If you were using the old Facebook conversion pixel, you'll need to switch over to the new Facebook pixel. You can learn how to do so in this Facebook business help article. If you were using the old custom audience pixel, these instructions for Facebook pixels explain how to upgrade to the new version.