Americans are being asked to consider tipping more often, but is it really required?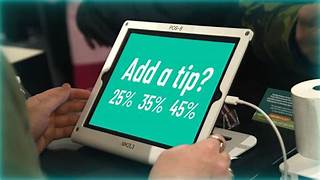 Americans are being asked more and more often whether they would like to tack a tip onto their check, sometimes facing a screen that reads "add a tip?"
Whether it's paying for coffee, picking up food at a restaurant counter, or taking a ride-share, a tip is now requested — but is it required?
"It's tricky everywhere," said New Yorker Carly Cullen."If you're at a coffee shop, if you're out at the hairstylist, if you're coming out of a taxi – I don't know the rules then, and I often don't know what to tip."
Cullen said she feels pressured to tip when faced with the question and almost always does. But customers don't like it.

A recent study by Purdue University and Temple University found that in a high number of cases, participants who were presented with a tip screen had more "negative emotions to the payment experience" than those who didn't. And that wasn't even a real-world scenario.
Tipping has long been standard in some professions, of course, for such workers as restaurant servers and bartenders. They rely on tip income as federal minimum wage excludes many restaurant and hospitality workers. Meanwhile, tip jars have long existed at the cash registers of bakeries, bodegas, or coffee shops.
What's different now is that tipping requests are spreading throughout industries and situations, and popping up on computer check-out screens, say at your local Starbucks or pizza place. Upping the pressure: the customer's decision to tip or not to tip is often made right under the employee's and other customers' watchful eyes.
At Provisions on State — a butcher shop in New Haven, Connecticut — there is no table service, no cooking or serving. And yet, when customers check out, a screen asks if they would like to tip.
"These men and women have a knowledge base that they're sharing and taking care to share with the guests that come through the door," said Emily Mingrone, owner of Provisions on State and two restaurants in the area. "And [the guests] aren't pressured to tip, but they want to because they're paying for a service provided."
Her butcher shop employees' wages don't change because of the tips they receive. Instead, Mingrone sees the tips as a bonus.
But it's a different story in her two restaurants: Fair Haven Oyster Co. and Tavern on State.
Mingrone pays her kitchen staff between $20-25 an hour, well above minimum wage. However, those employees aren't eligible for tips. Comparatively, her front of house staff — servers and bartenders — make the state's tipped minimum wage of $6.38 an hour. But add tips to that sum and it brings their hourly wage to about $40 an hour.

"The unevenness of it, my whole career has always bugged me because I've worked both sides of it. I'm kind of exploring what that looks like from a business owner perspective," said Mingrone.
But there is no easy answer. In 2015, restaurateur and owner of Union Square Hospitality Group Danny Meyer ended tipping, instead creating a "Hospitality Included" policy for guests. But during the pandemic, when restaurant attendance suffered, he ended that policy and returned to the traditional tipping model.
Eight states have abolished their tipped minimum wage. One Fair Wage, the group leading the movement, wants businesses to be required to pay employees the state's minimum wage, plus tips.
Some business owners say that could backfire. "I'm against it and I think frankly it's kind of clueless," said Mingrone. "That's money that's going to come out of my pocket, take away from the people that aren't getting tipped. I would need to raise my prices, which then causes pushback from the guest."
The Nation Restaurant Association, an industry trade group, estimates a $1 increase in the federal tipped wage could cause a 6.1% decrease in employment and up to 5.6% loss in quarterly earnings for employees.
"Full-service operators should have the option to choose a compensation model that works best for them, their servers, and their customers. Tipping enables lower costs for operators, higher wages for workers, and a professional level of customer service for diners," said Sean Kennedy, executive vice president for public affairs of the National Restaurant Association.
The concern from the restaurant community is customers would be less inclined to tip because food prices might rise to offset what restaurants would now have to pay in wages. That could mean less take home pay for servers, making it harder to find staff than it has been since the pandemic prompted many workers to leave the business.
The federal tipped minimum wage is $2.13 an hour and has been frozen there since 1991 — and many states default to that. Doing away with that would at least bring state wages to the federal minimum wage of $7.25 an hour, although the One Fair Way group is advocating for closer to $15.

Some longtime workers worry that as requests for tips proliferate in many situations, a backlash against tipping will cut their pay.
Destiny Fox has been working in restaurants since she was 16 years old. She works at two restaurants — Gene and Georgetti's and Coco Pazzo — in Chicago. She's paid just above the city's tipped wage, taking home $9.40 an hour. Tips make up the rest of her income — and represent 80% if her total take home pay.
She's opposed to getting rid of the tipped wage because she believes working for tips makes for better service.
"It would damage the city big time. It would push business out of the city, push people out of the city, customers even. I don't think they would be coming to restaurants if they don't get the service that they're used to. I don't think it's a good idea at all," she said.
"That's how I live — is with tips," said Fox.
Source: CNN