Twitter cash flow remains negative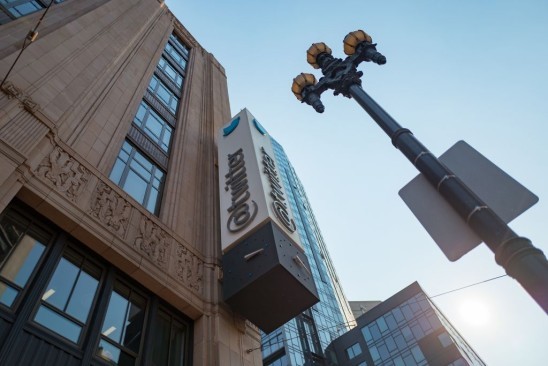 Twitter owner Elon Musk revealed on Saturday that the platform still has a negative cash flow after a 50% decline in advertising revenue and a "heavy debt load." Advertisers left the platform when Musk took over last year, but he said in April that "almost all of them" had returned or were planning to come back. Although Musk previously predicted that Twitter would be cash flow positive by June, he tweeted that "July is a bit more promising"for increased ad revenue.
Twitter rolled out a new policy allowing creators on the site to pocket a portion of ad revenue they make from ads posted in replies to their tweets.
By Tiffany Moustakas, Editor at LinkedIn News

Elon Musk says Twitter's cash flow still negative as ad revenue drops 50%
(Reuters) – Twitter's cash flow remains negative because of a nearly 50% drop in advertising revenue and a heavy debt load, Elon Musk said on Saturday, falling short of his expectation in March that Twitter could reach cash flow positive by June.
"Need to reach positive cash flow before we have the luxury of anything else," Musk said in a tweet replying to suggestions on recapitalization.
Musk said on Sunday in another tweet that Twitter did not see the increase in advertising revenue that had been expected in June, adding, "July is a bit more promising." Twitter Spaces also hasn't generated revenue yet and is "all-cost", Musk said.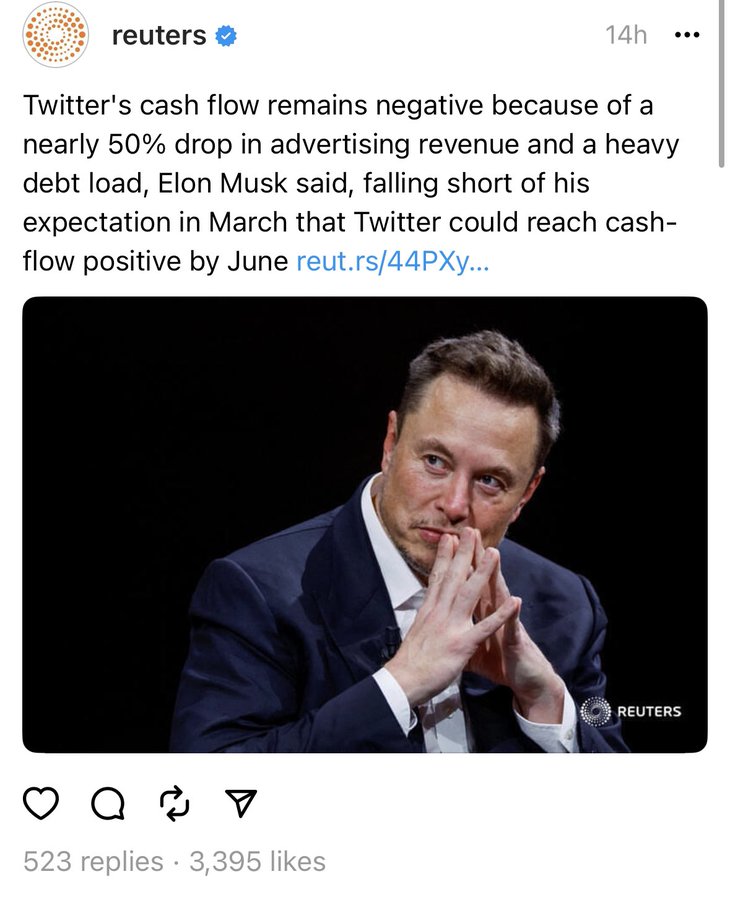 This is the latest sign that the aggressive cost-cutting measures since Musk acquired Twitter in October alone are not enough to get Twitter to cash flow positive, and suggests Twitter's ad revenue may have not recovered as fast as Musk suggested in an interview in April with the BBC that most advertisers had returned to the site.

After laying off thousands of employees and cutting cloud service bills, Musk had said the company reduced its non-debt expenditures to $1.5 billion from a projected $4.5 billion in 2023. Twitter also faces annual interest payments of about $1.5 billion as a result of the debt it took on in the $44 billion deal that turned the company private.
It is unclear what time frame Musk was referring to by the 50% drop in ad revenue. He has said Twitter was on track to post $3 billion in revenue in 2023, down from $5.1 billion in 2021.
Twitter has been criticized over lax content moderation, followed by an exodus of many advertisers who did not want their ads appearing next to inappropriate content.
Musk's hiring of Linda Yaccarino, former ad chief at Comcast's NBCUniversal as CEO, signaled that ad sales are a priority for Twitter even as it works to increase subscription revenue.
Yaccarino started working at Twitter in early June and has told investors Twitter plans to focus on video, creator and commerce partnerships and is in early talks with political and entertainment figures, payments services, and news and media publishers.
On Thursday, Twitter said that select content creators will be eligible to get a part of the ad revenue the company earns in an attempt to draw more content creators to the site.
Reporting by Jahnavi Nidumolu and Lavanya Ahire in Bengaluru; editing by Grant McCool and Sandra Maler