General Electric powers up again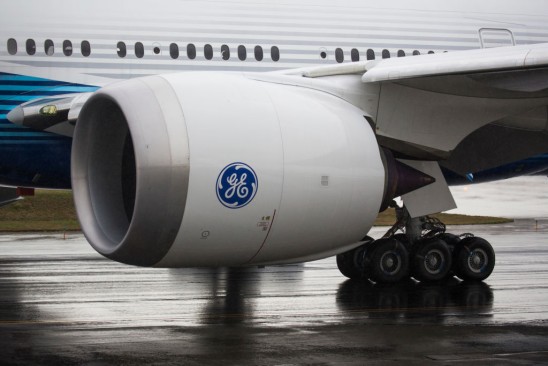 General Electric is in the midst of a hot streak. The multinational conglomerate reported stronger-than-anticipated second quarter earnings and raised its 2023 profit outlook on Tuesday. The results — buoyed by its jet engine and renewable energy businesses — lifted shares, but GE stock had already been on a tear on the S&P 500 over the past year, even outperforming luminaries Apple and Tesla. Meanwhile, rival RTX's better-than-expected second-quarter results — and its stock — are being dragged down by a recall of hundreds of its Pratt & Whitney jet engines over a metal contamination issue.
By Jake Perez, Editor at LinkedIn News

GE rides aviation boom to lift 2023 profit forecast
July 25 (Reuters) – General Electric Co (GE.N) on Tuesday raised its full-year profit outlook after quarterly earnings topped Wall Street estimates on robust demand for jet engine spare parts and services from airlines looking to cash in on surging air travel.
The company's shares were up about 6% at $116.44 in morning trade.
CEO Larry Culp in an interview said the company has not seen any signs of softening in demand despite rising interest rates.
"We feel very good about the demand that we see broadly," he said.
A faster-than-expected recovery in aviation from pandemic lows has lifted results of engine makers as shortages of commercial planes have forced airlines to use old jets for longer, boosting demand for lucrative aftermarket services.
GE's aerospace unit, which makes engines for jets of Boeing Co (BA.N) and Airbus (AIR.PA), posted double-digit growth in orders, revenue and operating profit from a year earlier. Its services revenue was up 31% in the second quarter from a year ago. Services accounted for 70% of the unit's revenue last year.
The company also reported growth in deliveries of LEAP engines, which it produces in a joint venture with France's Safran (SAF.PA).
Culp said while supply-chain constraints are improving, the company needs to do more to keep up with "unprecedented" production ramp-up at Boeing and Airbus. He reaffirmed the company's forecast to deliver 1,700 LEAP engine units this year.
GE is also seeing a moderation in cost pressures, he said. Its aerospace unit will carry out a price increase for parts in August, Culp added.
The Boston-based industrial conglomerate now expects 2023 adjusted profit per share of $2.10 to $2.30, compared with its previous forecast of $1.70 to $2.00. The outlook compares with analysts' consensus earnings estimate of $2.06 per share for 2023, according to a Refinitiv survey.
Free cash flow for the year is estimated to be in a range of $4.1 billion to $4.6 billion, up from $3.6 billion to $4.2 billion expected previously.
GE said operating profit at its aerospace business was now expected to be in a range of $5.6 billion to $5.9 billion this year, up from $5.3 billion to $5.7 billion estimated earlier.
In a sign of improvement at its renewable energy business, the company said the unit was expected to post stronger revenue than its previous estimate, translating into "significantly" better operating profit in 2023.
GE's adjusted profit for the June quarter came in at 68 cents per share, compared with a profit of 46 cents per share estimated by analysts in a Refinitiv survey.
By Rajesh Kumar Singh and Abhijith Ganapavaram, REUTERS