United pilots land new pay deal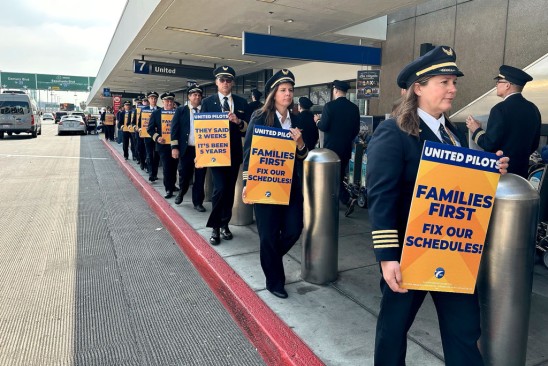 United Airlines and its pilots reached a new agreement that will boost pay over the next four years. Pilots will be able to receive anywhere from 34.5 to 40.2% in pay raises depending on what kind of aircraft they operate. The deal, which has been described as "historic" and comes after months of negotiations, is valued at about $10 billion and still needs to be approved by the pilot union's 16,000 members. Last year, the union rejected a proposed 18-month deal that would have given them a 15% pay increase. The deal comes amid a travel resurgence following the pandemic.
On July 24, American Airlines' pilots will begin voting on a new contract that will provide an average of 41.5% in pay raises.
By Tiffany Moustakas, Editor at LinkedIn News

United reaches preliminary, 4-year labor deal with pilots, with up to 40% raises
KEY POINTS
The new deal includes raises of as much as 40.2% over four years, depending on aircraft type.
The union estimated the deal is worth about $10 billion.
Labor unions across the industry are pushing for higher wages and better working conditions in the lucrative post-pandemic travel boom.
United Airlines and its pilots' union have agreed to a preliminary labor deal that includes pay increases of as much as 40.2% over four years, ending months of tense negotiations and airport pickets. The deal makes United's aviators the latest from a major airline to reach an agreement for higher wages amid the post-pandemic travel boom.
The preliminary deal, which the Air Line Pilots Association announced Saturday, comes months after Delta Air Lines pilots ratified a new contract that included 34% raises over four years, the first of the top four airlines to reach a new agreement. American Airlines and its pilots' union reached a new labor deal with 40% raises over four years, though it still faces a ratification vote by members.
The pandemic paused contract negotiations across the industry but workers have been pushing for higher pay and better working conditions since travel demand returned and talks resumed. Southwest Airlines and its pilots union haven't reached an agreement and the union is seeking release from federal mediation, a step toward a potential strike.
United pilots' union said the tentative deal is worth about $10 billion. It includes a host of other improvements including overtime pay, holiday pay and scheduling. Cumulative pay increases range from 34.5% to 40.2% based on the type of aircraft a pilot flies. Upon the date of signing, pilots would get pay hikes from 13.8% up to 18.7%.
The contract won't be finalized until it's ratified by the company's 16,000 pilots.
"We promised our world-class pilots the industry-leading contract they deserve, and we're pleased to have reached an agreement with ALPA on it," United CEO Scott Kirby said in a LinkedIn post. "The four-year agreement, once ratified, will deliver a meaningful pay raise and quality of life improvements for our pilots while putting the airline on track to achieve the incredible potential of our United Next strategy."
The pilots overwhelmingly rejected a preliminary, 18-month deal last year.
United is scheduled to report second-quarter earnings after the market closes Wednesday, and executives are likely to face questions about the cost of the deal during a conference call the next day.
The Allied Pilots Association, which represents American Airlines pilots, said that it is reviewing the new United deal, ahead of a pilot vote on its own tentative agreement in the coming weeks.
"American Airlines CEO Robert Isom has pledged to match our industry peers in the current bargaining environment," the union said Saturday. "In the coming days, your union leadership will endeavor to determine whether Mr. Isom plans to follow through on that pledge in light of this latest development."
American responded Sunday: "Congratulations to United Airlines and their pilots on their new agreement in principle. We wish them well as they work to get a ratified agreement.  As always, we'll work with the APA to make sure our pilots are taken care of."
BY: Leslie Josephs, CNBC