Tesla's Autopilot faces new probe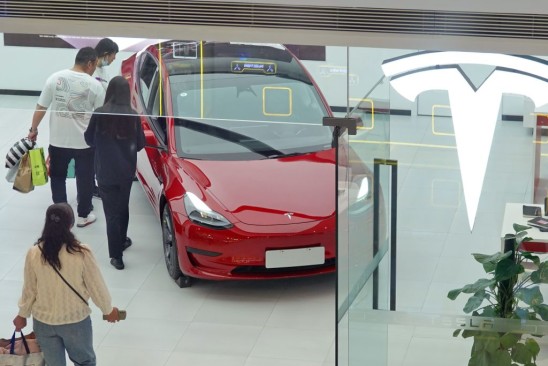 California's attorney general has launched an inquiry into Tesla's Autopilot feature and marketing practices, according to CNBC.The state is actively calling on customers and former employees to report "issues and false advertising complaints" related to Autopilot's safety. One Tesla owner told the Federal Trade Commission there was an issue with "phantom braking" while driving the car in Autopilot mode, which can lead to the car being suddenly rear-ended. Other complaints stem from misleading wording around Tesla's "Self Driving capability" package.
The state's Department of Motor Vehicles is also investigating the company's driver assistance system, accusing Tesla of "deceptive practices in marketing its Autopilot and FSD technology."
Last year, Tesla created a team dedicated to canceling service appointments made by customers frustrated by their cars' lack of range, Reuters reports, citing anonymous sources. One source said the cars have overly "rosy" range projections, and Tesla exaggerates distance capabilities in its marketing.
By Rob Sacks, Editor at LinkedIn News

Dallas widow sues Tesla, believes autopilot led to crash that killed husband
According to the lawsuit, Mark Taylor was taking out the trash in front of his Dallas home when he was struck by a Tesla Model S driven by Gregory Shepard. The crash caused "catastrophic brain injuries."
A Dallas woman has filed a lawsuit against electric-car manufacturer Tesla, saying she believes a driver was distracted and using the car's autopilot feature at the time of a 2020 crash that severely injured her husband, eventually leading to his death nearly 18 months later.
The lawsuit, filed on behalf of Rebecca Taylor and her three children in Dallas County district court July 19, names Tesla and Gregory Shepard, the driver behind the wheel during the June 19, 2020, crash. The Taylors seek more than $1 million in damages.
An email to Tesla's press-relations office and lawyers representing the company was not immediately returned Wednesday. Shepard's attorney could not immediately be reached for comment.

According to the lawsuit, Mark Taylor was taking out the trash in front of his home on Lakeland Drive in Far East Dallas when he was struck by a Tesla Model S driven by Shepard. The crash caused "catastrophic brain injuries," according to the lawsuit, and a GoFundMe set up by the family said Taylor was rendered quadriplegic and "unable to speak or communicate."
Taylor — an entrepreneur who founded his own business when he was 22 and who was an Apple-certified consultant and data recovery expert — died Nov. 6, 2021, at age 47.
According to the lawsuit, the Taylors "suspect" Shepard's Tesla was using its autopilot feature at the time of the crash, and are hoping to prove their suspicions during the case's discovery process. The lawsuit does not say what led the Taylors to believe Tesla's autopilot was being used when Mark Taylor was struck.
But it does say that statements made by Tesla CEO Elon Musk have exaggerated the capability of the vehicles to intervene in order to prevent a crash while in autopilot mode.
"TESLA has led drivers to believe its 'Autopilot,' 'Full Self-Driving,' and other automated features increase safety to the extent that the driver's attention is less necessary," the lawsuit says. "TESLA'S repeated claims that its cars can drive themselves imply a level of automation that does not yet exist in any vehicle on the road today."
A search of public court records did not show that Shepard had faced any criminal charges related to the crash.
By Michael Williams, The Dallas Morning news