Striking hotel workers back on job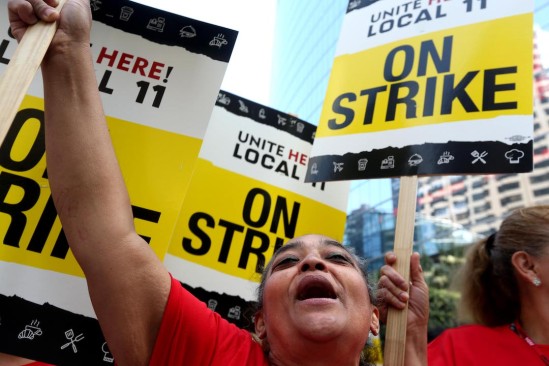 Thousands of Los Angeles hotel workers who joined picket lines early this week returned to work on Wednesday without a new deal. Housekeepers, dishwashers and other hospitality workers have been seeking a pay increase of $5 an hour, double what hotel owners are offering, to keep pace with the region's high cost of living. A union spokesperson told Reuters that the next strike targeting regional hotels with expired labor contracts could occur "at any moment." Hotel owners have accused the union of refusing to negotiate in good faith and using the strike to boost support.
By Todd Dybas, Editor at LinkedIn News

LA union hotel employees are back at work — but plan to strike again
Union workers held picket signs outside of LA hotels over the July Fourth holiday. Retrieved from @UNITEHERE11 on July 06, 2023
Dive Brief:
Union hotel workers in Southern California are back on the job after thousands walked out over the July Fourth holiday, hospitality union Unite Here Local 11 said in a statement obtained by Hotel Dive.
The three-day strike was the largest hotel worker strike in Southern California history, spanning 19 hotels in the region.
Unite Here said other hotel strikes are likely to follow, with the union's statement calling the walkouts "just the first wave of strikes and disruption by hotel workers across the region."
Dive Insight:
Over the weekend, union members of Unite Here Local 11 marched with picket signs outside hotels across Southern California — just as they were experiencing crowds over the July Fourth holiday — to advocate for better pay and working conditions.
"We went on strike to show these companies what we were willing to do to win a fair contract," said Joy Johnson, a housekeeper at the Courtyard Los Angeles LA Live. "As I get ready to return to work, I am proud to be part of the first wave of strikes, leading the way for the rest of our union to follow."
While striking workers are now back on the job, union leadership said there are likely more strikes — as well as other potential demonstrations — to come.
"This walkout was the first of many actions that may come this summer by workers at hotels across Southern California, and it is only one tool in our toolbox," said Kurt Petersen, co-president of Unite Here Local 11, in the union's statement. "We have put the industry on notice that the workers have suffered enough."

Workers walked out Sunday morning, two days after union contracts at 61 hotels expired.  Strikers included cooks, room attendants, dishwashers, servers, bellmen and front desk agents. Hotel companies involved in the strike include Hilton, Hyatt, IHG and Marriott.
At the time of the strike, a Marriott spokesperson told Hotel Dive: "This activity was expected. We are fully prepared to continue to operate these hotels and to take care of our guests as long as this disruption lasts." Other hotels did not respond to requests for comment.
Keith Grossman, an attorney representing the Coordinated Bargaining Group of 44 hotels in L.A. and Orange County, said in a statement: "We welcome our employees back to work and the end of the work stoppage at those hotels. If the Union takes employees out at other hotels, those hotels are well prepared to service guests. As we have said repeatedly, the Coordinated Group has not canceled meetings, only the Union has. We are ready to meet and hope Union leaders can focus on our employees and reaching a settlement and get back to the bargaining table."
Union employees at one hotel, the Westin Bonaventure Hotel & Suites, have already won their demands. Averting a work stoppage, downtown L.A.'s largest hotel agreed to give its 600 union employees wage increases intended to keep pace with the rising cost of living, affordable family healthcare, staffing hours at pre-pandemic levels and pension contributions.
Unite Here Local 11 did not respond to Hotel Dive's inquiry about when future strikes may occur. However, the Los Angeles Times reports that neither the hotels' nor the union's position has moved since the weekend's strike, with union spokesperson Maria Hernandez pointing to the Westin Bonaventure's deal with workers as proof that hotels can accommodate the union's demands.
With the threat of strikes ongoing, hospitality experts said hoteliers will need solid contingency plans for potential disruptions.
"This is just the beginning," Unite Here Local 11's statement read.
BY Noelle Mateer, HOTEL DIVE