OpenAI CEO's new project: Worldcoin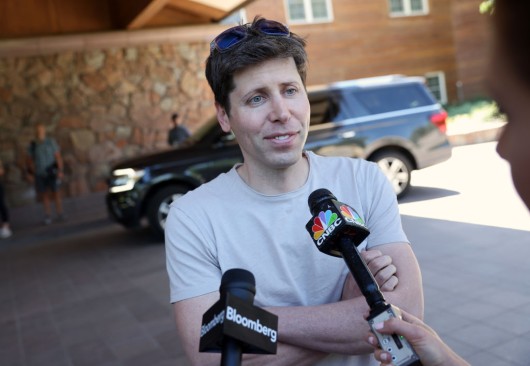 OpenAI CEO Sam Altman has pushed forward with Monday's international launch of his cryptocurrency project, dubbed Worldcoin, despite regulatory tensions in the U.S. The digital asset's centerpiece is a "digital passport" called a World ID that confirms a crypto holder's identity through an in-person eye scan with a Worldcoin "orb." Worldcoin already has 2 million users through beta testing, and Monday's launch scales it across 35 cities in 20 countries. Because of the post-"crypto winter" U.S. regulatory crackdown, Worldcoin tokens won't be available in the U.S. for the time being.
Worldcoin more than doubled its initial $1.70 price before settling at about $2.13 by 7 p.m. EST, according to CoinMarketCap.
By Jake Perez, Editor at LinkedIn News

Deception, exploited workers, and cash handouts: How Worldcoin recruited its first half a million test users
The startup promises a fairly-distributed, cryptocurrency-based universal basic income. So far all it's done is build a biometric database from the bodies of the poor.
WORLDCOIN
Ruswandi joined a long line of residents, mostly women, some of whom had been waiting since 6 a.m. In the pandemic-battered economy, any kind of assistance was welcome.
At the front of the line, representatives of Worldcoin Indonesia were collecting emails and phone numbers, or aiming a futuristic metal orb at villagers' faces to scan their irises and other biometric data. Village officials were also on site, passing out numbered tickets to the waiting residents to help keep order.
Ruswandi asked a Worldcoin representative what charity this was but learned nothing new: as his mother said, they were giving away money.

Gunungguruh was not alone in receiving a visit from Worldcoin. In villages across West Java, Indonesia—as well as college campuses, metro stops, markets, and urban centers in two dozen countries, most of them in the developing world—Worldcoin representatives were showing up for a day or two and collecting biometric data. In return they were known to offer everything from free cash (often local currency as well as Worldcoin tokens) to Airpods to promises of future wealth. In some cases they also made payments to local government officials. What they were not providing was much information on their real intentions.
This left many, including Ruswandi, perplexed: What was Worldcoin doing with all these iris scans?
To answer that question, and better understand Worldcoin's registration and distribution process, MIT Technology Review interviewed over 35 individuals in six countries—Indonesia, Kenya, Sudan, Ghana, Chile, and Norway—who either worked for or on behalf of Worldcoin, had been scanned, or were unsuccessfully recruited to participate. We observed scans at a registration event in Indonesia, read conversations on social media and in mobile chat groups, and consulted reviews of Worldcoin's wallet in the Google Play and Apple stores. We interviewed Worldcoin CEO Alex Blania, and submitted to the company a detailed list of reporting findings and questions for comment.
Our investigation revealed wide gaps between Worldcoin's public messaging, which focused on protecting privacy, and what users experienced. We found that the company's representatives used deceptive marketing practices, collected more personal data than it acknowledged, and failed to obtain meaningful informed consent. These practices may violate the European Union's General Data Protection Regulations (GDPR)—a likelihood that the company's own data consent policy acknowledged and asked users to accept—as well as local laws.
In a video interview conducted in early March from Erlangen, Germany, where the company manufactures its orbs, Blania acknowledged that there was some "friction," which he attributed to the fact that the company was still in its startup phase.
"I'm not sure if you're aware of this," he said, "but you looked at the testing operation of a Series A company. It's a few people trying to make something work. It's not like an Uber, with like hundreds of people that did this many, many times."

Proof of personhood
Two months before Worldcoin appeared in Ruswandi's village, the San Francisco–based company called Tools for Humanity emerged from stealth mode. Worldcoin was its product.
The company's website described Worldcoin as an Ethereum-based "new, collectively owned global currency that will be distributed fairly to as many people as possible." Everyone in the world would get a free share, the company suggested—if they agreed to an iris scan with a specially designed device that resembles a decapitated robot head, which the company refers to as the "chrome orb."
The orb was necessary, the website continued, because of Worldcoin's commitment to fairness: each person should get his or her allotted share of the digital currency—and no more. To ensure there was no double-dipping, the chrome orb would scan participants' irises and several other biometric data points and then, using a proprietary algorithm that the company was still developing, cryptographically confirm that they were human and unique in Worldcoin's database.
"I've been very interested in things like universal basic income and what's going to happen to global wealth redistribution," Sam Altman, Worldcoin's cofounder and the former President of Silicon Valley accelerator Y Combinator, told Bloomberg, which first reported on the company last summer. Worldcoin was intended, he explained, to answer the question "Is there a way we can use technology to do that at a global scale?"