Netflix mulls entering the golf game
By Jessica Hartogs, Editor at LinkedIn News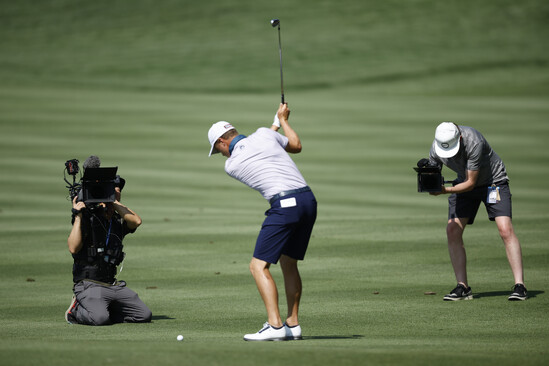 Netflix may host its first-ever celebrity golf tournament this fall, reports The Wall Street Journal, citing anonymous sources. The event would be held in Las Vegas and feature stars from its "Drive to Survive" Formula One docuseries, as well as some of the professional golfers from its "Full Swing" doc. It would also be Netflix's first step into the sports live-streaming world, which several competitors have entered with the hopes of attracting more viewers and more advertisers. The event would allow subscribers to watch live sports without having to pay extra for a sports package.
Netflix has been expanding its audience reach "with varying success;" a live comedy special with Chris Rock went off without a hitch, while a "Love is Blind" live reunion experienced plenty of glitches.

BY
Netflix's decision to potentially live streaming a branded celebrity golf tournament is brilliant in my opinion! First, consider the fact that the PGA TOUR has had a historic year thus far around its viewership for broadcasted tournaments. According to data from GolfTVRatings, viewership has been up year-over-year for 11 of the last 14 PGA Tour windows on broadcast TV (source: https://lnkd.in/ey9wMetv).
Not only is viewership going up, but general participation in golf has also increased. According to data from the National Golf Foundation, the post pandemic demand for golf has remained steady as total January to March play for the past three years – post-Covid – rounds are up almost 17% compared to the three-year period ahead of the pandemic [2017-19] (source: https://lnkd.in/ePJUtnMC)
Simply put, Netflix knows golf is cool and culturally relevant! It will be exciting to hopefully see who Netflix may have on the course playing together.
Jessica Toonkel,  Sarah Krouse | The Wall Street Journal

BY
Netflix's latest move could be a hole-in-one.
Their plan to organize and broadcast a celeb golf tournament featuring 'Drive to Survive' and 'Full Swing' stars is quite brilliant 👀
Should the live sports venture not prove fruitful for Netflix, the company can minimize potential losses and communicate to investors that it was a low-risk experiment that didn't significantly impact shareholder value.
Streaming a niche event allows Netflix to experiment with live sports coverage, helping the company determine potential audience interest and revenue opportunities while resolving any technical issues.
Securing broadcasting and streaming rights for major sports like NFL, MLB, and NBA can be challenging due to long-term agreements with national broadcasters and their respective streaming services
. —
💥 I'm Vincenzo.
🔺 Exploring business + culture of sports
🔔 Like this post? Click the bell on my profile to see more
🔝 Want to work with me? Let's connect.
#linkedinsports #F1 #sportsbiz #broadcasting Formula 1 PGA TOUR Netflix