How extreme heat changes our cities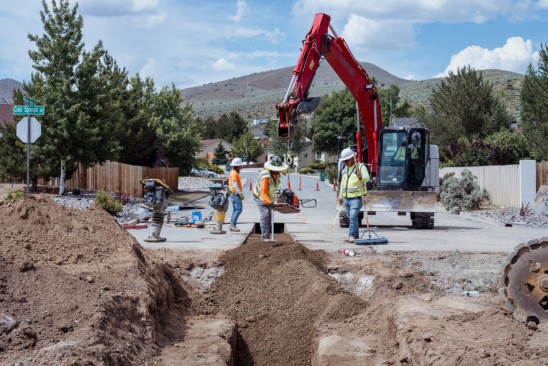 July's record-breaking heat is overtaxing power grids and pushing cooling systems to the brink of failure. But high temperatures are also taking a tollon other forms of infrastructure, including bridges, train tracks and roads, which are melting, cracking — and literally bumping up fuel consumption and vehicle-maintenance costs in turn. "Most of our existing infrastructure was designed based on temperature averages 60 to 80 years ago," an infrastructure expert tells The Wall Street Journal. Yet even new construction isn't immune: Some builders are adding buckets of ice to concrete and mortar to help it set without melting and shifting.
Also vulnerable to extreme heat: glues that hold pipes together; metals used in construction; and construction joints on bridges, which can expand in high temperatures.
The heat wave hitting Texas, Florida and parts of the West is spreading across much of the country this week.
By Emma W. Thorne, Editor at LinkedIn News

June was the hottest month on record for the planet. July will likely follow: July 3 was the hottest day ever recorded, until July 4 broke the record a day later—followed by a tie on July 5 and another new record on July 6. In the U.S., millions of Americans are currently under heat alerts. Phoenix has been 110 degrees Fahrenheit—or hotter—for nearly a month. Sanbao, China, reached a record high of 52.2 degrees Celsius (126 Fahrenheit). In Iran, the heat index hit 66.7 degrees Celsius (152 Fahrenheit), near the limits of human survival. This isn't the new normal—as climate change progresses, the world will get even hotter. Here's how cities are racing to adapt.
SHRINKING ROADS
When the Dutch city of Arnhem created a new plan to tackle extreme heat, part of the strategy involved rethinking roads. The more pavement covers a neighborhood, the bigger the urban "heat island" effect, since roads absorb heat from the sun during the day and release it at night. The city is evaluating which roads are underused, so traffic lanes can shrink and some of the asphalt can be replanted with greenery. Arnhem is also planting trees along bike paths and sidewalks for extra shade, adding new parks with shade and ponds designed to give people a place to cool down, and mapping out parts of the city that should remain open space to help keep the temperature lower.
REDESIGNING PUBLIC SPACE
In Abu Dhabi, where the temperature recently soared to 50 degrees Celsius (122 Fahrenheit), the city is testing features that can make it more comfortable to be outside in the heat. One park includes shades that roll back at night to let hot air escape, strategically placed walls that help channel the breeze and shade benches, and misting devices that spray water.

PLANTING TREES
Low-income neighborhoods tend to have fewer trees—and the lack of shade can make those areas at least 10 degrees Fahrenheit hotter. Some cities are studying where more trees are needed, using tools like American Forests' Tree Equity Score. Then they're embarking on large-scale tree-planting projects.
Dallas and Phoenix, for example, have prioritized adding trees to the paths that students take to walk to elementary school. Medellin, Colombia, now has a network of 30 "green corridors" planted with thousands of trees to help make it more comfortable to walk and bike across the city. But any project like this has to be carefully planned so the trees survive. In Madrid, a forest planted around the city's edge to help with cooling has been called a "tree cemetery" because so many have died from drought. As a result, some cities are entirely rethinking their trees—diversifying the mix and choosing species that will adapt to climate change.
REVISITING ANCIENT COOLING TECHNIQUES
In Abu Dhabi, where the temperature often soars beyond the Celsius equivalent of 120 degrees Fahrenheit, some buildings put a modern spin on ancient techniques for staying cool. A 25-story high-rise called Al Bahar Towers, for example, is covered with shades inspired by latticed screens used in traditional Islamic architecture. The shades, which use sensors to unfold when it's sunny, help halve the need for air-conditioning. In China, where temperatures keep breaking records, some architects are taking inspiration from "skywells," an ancient design for shaded courtyards that help naturally pull in cooler air.
KEEPING UNHOUSED RESIDENTS COOL
Last year, a record 425 people died from heat-related causes in Phoenix. At least 178 were homeless (the number may have been larger, since data about living situations was available for only 320 of the victims). The city's Office of Heat Response and Mitigation, which opened in 2021, focuses in part on outreach to unhoused residents, connecting people with free rides to cooling centers that are open throughout the summer. At air-conditioned public libraries, anyone can get a bottle of water and a cooling towel when they walk inside. Local homelessness organizations offer tents outside with evaporative cooling and shade. Still, as with many cities, the bigger challenge is how to quickly add more affordable housing so fewer people have to live on the streets.
NAMING HEAT WAVES
When a heat wave hit Seville, Spain, last summer, with temperatures over the Celsius equivalent of 110 degrees Fahrenheit, it was the first to get an official name: Zoe. In the same way that naming hurricanes or wildfires helps alert people to an emergency, naming heat waves can help make the threat from extreme heat more obvious. Heat is deadlier than any other natural disaster, but people tend to prepare for it less. In the pilot that began last year, Seville classifies heat waves into three levels, triggering actions like sending health workers to check on vulnerable people. Early surveys suggest that the strategy is helping, with people more likely to be cautious outside and to check on their neighbors during a named event.
PAINTING ROOFS AND STREETS WHITE
Adding a white coating to a roof can help it reflect as much as 90% of sunlight, keeping rooms inside around 30% cooler and shrinking the need for air-conditioning. New York City offers free coatings for some buildings, including low-income housing, and connects other building owners with discounted paint and free labor. New technology, like the whitest white paint developed by researchers at Purdue University, can help even more. Cities including Los Angeles are also coating roads to help make neighborhoods cooler, though there's a risk that the reflective coating can make pedestrians hotter.
HIRING CHIEF HEAT OFFICERS
A growing number of cities and counties are creating new positions for "chief heat officers," recognizing that the growing risk of extreme heat means that cities need a new focus on resilience. The first CHO, Jane Gilbert, was appointed in Miami-Dade County in 2021, coordinating efforts like tree planting, adding cool roofs and pavements, and retrofitting low-income housing so it takes less energy to cool. The county recently took steps toward a new ordinance that would help protect outdoor workers with frequent breaks and access to water when the heat index hits 90 degrees Fahrenheit.
By: BY ADELE PETERS, FastCoMPANY