Hollywood risks a second strike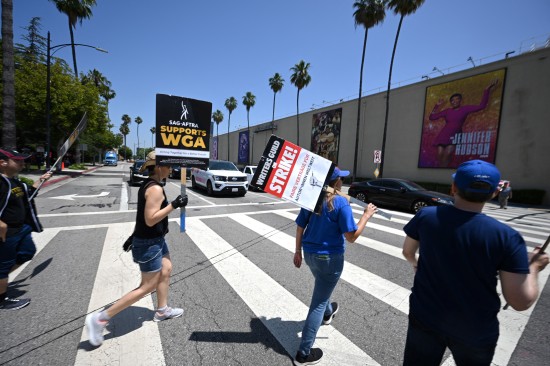 Major studios have until midnight Wednesday to reach a deal with the SAG-AFTRA actors union before Hollywood comes to a halt. Otherwise, actors could join screenwriters on strike — the first time they'd both be on the picket lines at the same time in 63 years — if they're unable to reach an agreement over issues such as wages, residual payments and the use of artificial intelligence. Hollywood is already about 80% shut down due to the writers strike that began in early May, and adding actors to the mix would close productions completely, per the NYT.
Any fresh strike action will impact local economies in filming hotspots such as Los Angeles, New York City and Atlanta.
Network shows would also be affected, prompting more reruns and likely reality television.
For more context on the issues at stake for the writers (and by extension, for knowledge workers at large), check out Hello Monday's podcast conversation between producer (and SAG actor) Sarah Storm and WGA strike captain Laura Jacqmin.
By Riva Gold, Editor at LinkedIn News

SAG-AFTRA Prepares Hollywood Publicists for Strike (EXCLUSIVE)
Leadership from the performers guild SAG-AFTRA held a conference call with top Hollywood publicity agencies on Monday, bracing the powerful gatekeepers of A-list stars for a strike. The objective of the call, according to sources, was to brief the reps on protocols and how talent can best serve the union if and when a strike takes place.
"SAG-AFTRA's National Board has the option to call a strike if the AMPTP won't agree on a deal that bolsters performer's careers and ensures their profession remains one that can support a dignified livelihood," leadership wrote to the PR agencies ahead of the meeting. SAG-AFTRA initiated the meeting.
It's the most sobering sign yet that the union may join the Writers Guild of America in battling the Alliance of Motion Picture and Television Producers for more generous contracts. The current contract between the actors and producers is set to expire at midnight PT on July 12, an already-delayed deadline that sowed chaos in the industry for nearly two weeks with a will-they-or-won't-they guessing game. SAG-AFTRA leaders have also made similar outreach to top law firms and talent agencies in recent days.
"It would be a miracle at this point" to reach a deal by this Wednesday, one producer told Variety.
Publicists have been wringing their hands for weeks over a potential SAG-AFTRA strike as they send talent out to promote blockbuster summer movies — tentpoles whose success relies on maximum exposure to audiences, including "Barbie," "Oppenheimer," and "Mission: Impossible – Dead Reckoning Part 1."
The agents who broker deals for stars were "freaking out" as news of the Monday call trickled out, the producer source said. Last week, the tea leaves read positive that the producers and actors would reach a deal. But by Friday, according to another top power player who spoke on the condition of anonymity, "everything fell apart."
By Matt Donnelly, Variety