Gender pay gap at record low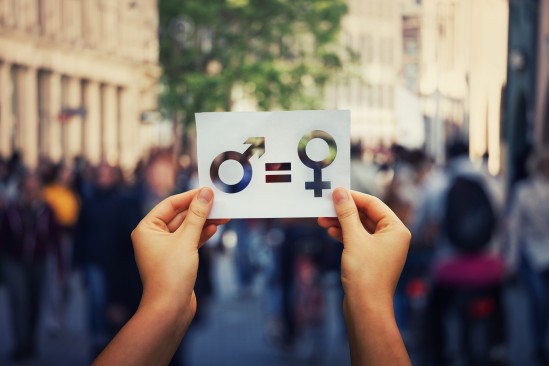 The gender pay gap still exists, with women who work full time earning just 84% of what comparably employed men are paid. However, the pay gap is shrinking — and to its narrowest point on record since tracking commenced in 1979. Though some of this is cumulative progress, the pandemic may also have contributed by incentivizing women to charge more for their time. "Many women are coming back into the labor force at higher wage rates than before," economist Julia Pollak tells Axios.
Women's workforce participation may also help explain the boost. A record 75% of women aged 25 to 44 are working.
According to seasonally adjusted data from the Bureau of Labor Statistics, median weekly earnings among women were $1,001 last quarter, and $1,185 among men.
By Melissa Cantor, Editor at LinkedIn News

Gender pay gap now the narrowest on record
Women's earnings as a share of men's earnings
An area chart shows the ratio of women's median weekly earnings compared to men from Q1 1979 to Q2 2023. At the start of this timeframe, women earned about 40% less than what men earned. In Q2 2023, women earned 15.5% less than men.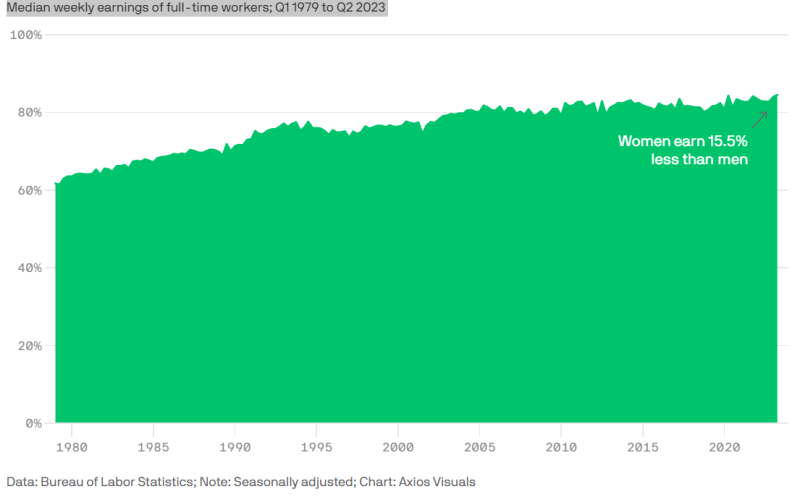 America's working women were feared to suffer the worst in the pandemic recovery. The opposite, however, has proven to be the case, with women serving as historic drivers of a labor market that remains surprisingly strong.
Why it matters: The pay gap between full-time working women and male counterparts is now the narrowest on record. The dynamic has been long in the making — a reflection of discrimination's slow fade and other structural forces that have held women back on pay.
But it is also a result of a resilient, tight labor market where women have entered the workforce in droves.
What they're saying: "Many women are coming back into the labor force at higher wage rates than before," says Julia Pollak, chief economist at ZipRecruiter. "What was a 'she-cession' in some ways appears to be turning into a 'she-boom.'"
By the numbers: Full-time working women had median weekly earnings of $1,001 last quarter, about 84% of the $1,185 male median.
Male employees continue to earn more than their female counterparts. But by this measure, the pay gap is the narrowest since the government began collecting data in 1979.

Where it stands: Women have been the driving force behind multi-decade highs in employment rates for working-age Americans. Roughly 75% of 25- to 54-year-old women are employed — the highest share on record.
The bottom line: Those higher employment rates for women, paired with early signs of bigger strides in shrinking the pay gap, might set this economic cycle apart from others.
"In the 2010s, there was a lot of progress for women on plenty of other measures, like labor force participation rates. There was less progress on pay, which really baffled observers," Pollak says.
BY: Courtenay Brown, AXIOS