Flight demand starts to level off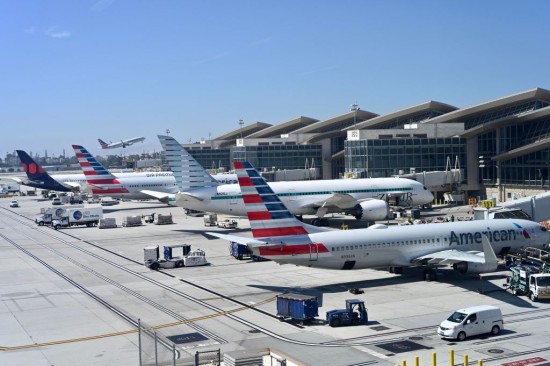 Americans were eager to fly after COVID restrictions were dropped, but that trend may be fading. Second-quarter purchases for tickets declined for the first time in more than two years, according to data from Bloomberg Second Measure. Recent record-high inflation is one possible reason, as flyers reassess their spending habits — something they've been doing when it comes to restaurants, clothing and electronics. The emerging trend could threaten a recovery in the airline industry. Alaska Airlines, for one, has already warned this quarter's results may be affected by weaker demand and falling prices.
By Rob Sacks, Editor at LinkedIn News

Airlines Are Going Through Business Travel Detox
Southwest plans to revamp its flight schedule next year to match new patterns
Airlines are finding ways to live without business travelers.
Appetite for travel has roared back in the past two years as pandemic-era restrictions began to fall away, and airline executives have reported soaring demand. But carriers are still navigating what they say might be long-term shifts in who is traveling, when and why.
The big companies whose employees once filled weekday flights, often paying top dollar for last-minute tickets and premium seats, aren't back in full force. Leisure travel, and an emerging type of trip combining pleasure and work, have taken on more importance.
Southwest Airlines LUV -2.14%decrease; red down pointing triangle has made a push to capture more business travel in recent years and said it is still winning market share. But executives said Thursday that people who are traveling for work aren't doing so as often, and that they expect corporate travel demand to lag behind leisure for the foreseeable future.
"It's clear that travel patterns postpandemic are not what they were prepandemic," Chief Executive Officer Bob Jordan said Thursday.
Southwest plans to revamp its flight schedule next year to adapt, adjusting where it plans to fly, what time of day and what days of the week.
The drop-off in flying from Monday to Tuesday and Wednesday will be sharper. Southwest will pivot from some short-haul routes aimed at business travelers to longer routes with more potential leisure traffic. And it said it would shift some flights from the early morning or late night hours, favored by road warriors jetting to and from meetings.
Major airlines have said their revenue hit record levels during the three months ended June 30, and Southwest was no exception. But airlines are facing questions about whether the surging demand of the past two years can be sustained, and pressure from rising wage rates as they draw up new labor deals with employees. Southwest shares fell nearly 9% Thursday
Carriers including Delta Air Lines DAL -1.86%decrease; red down pointing triangle have said they still expect gradual improvement in corporate travel, especially as offices fill up. But changes in how people work are also facilitating more travel. "The less that people are in the office, the more they travel, the more mobile they are," Delta CEO Ed Bastian said in an interview earlier this month.
American Airlines has said the share of its revenue coming from pure business travel has declined. The same people who once spent four days a week on the road are often spending as much or more on vacations or hybrid trips, the company said. That has informed a new strategy—the airline let a chunk of its corporate sales staff go and has been playing down the role of corporate travel agencies and corporate contracts.

Frontier Airlines, a discounter, has also said Tuesdays and Wednesdays—when people are more likely to be at their desks—have become lackluster days for vacationers. The airline earlier this year said it would shift its schedule to fly more on peak days and less during the midweek trough.
There are some indications that domestic demand has cooled off as more travelers have looked abroad, something analysts say could pose a challenge for airlines such as Southwest with less exposure to far-flung locales.
Southwest said it expects the third quarter to bring another revenue record, but it said that revenue per seat flown a mile could be as much as 7% lower than in the same period in 2022.
The airline said it is tough to live up to last year, when pent-up demand for travel was first unleashed.
Alaska Airlines, another primarily domestic leisure carrier, said this week that ravenous appetite for international travel has diverted some would-be domestic travelers, something that has been a drag on domestic fares. Alaska's shares sold off sharply after it reported earnings Tuesday.
Southwest reported a profit of $683 million in the three months ended June 30, down about 10% from the same period a year earlier.
The airline said its nonfuel unit costs were up 7.5% from a year earlier—on the high end of what it had expected—because of expected wage increases in labor contracts the airline is hammering out. The airline said it expects rising wages to continue to pressure costs.
Pilots at rival airlines have struck deals for big pay bumps in recent months, and Southwest said it is adjusting to the "dynamic market environment" as it plans for the expected impact of new contracts.
Southwest is in the midst of negotiations with its pilots and flight attendants. Its pilots have asked to be released from federal mediation, saying talks have reached an impasse, a move that brings them one step closer to a potential strike. Jordan said Thursday that there is no threat of an imminent strike and that the airline is still hopeful it can make progress toward a deal.
The union that represents pilots at American said Thursday that it had come to a preliminary agreement with the company on a sweetened deal to match rivals' pay and other benefits.
By:
Alison Sider, WSJ