Fed's inflation gauge cooled in June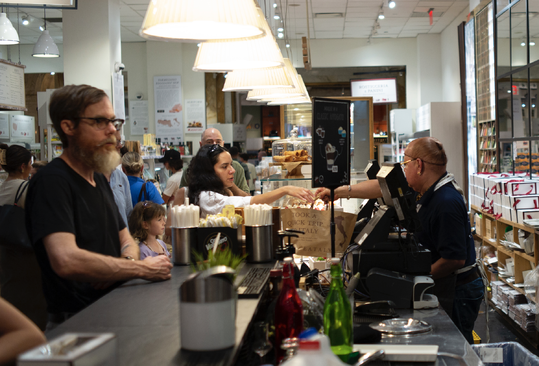 A key price gauge fell in June even as consumer spending advanced, pointing to a possible "soft landing" for the economy — in which successive interest-rate hikes slow inflation without causing recession. The Federal Reserve's preferred price measure, excluding food and fuel, rose an annual 4.1% last month, after increasing 4.6% in May. Spending rose 0.4% last month, the most since January. The Employment Cost Index, meanwhile, showed wages increased an annual 4.5% in the last quarter, compared to 4.8% between January and March.
The Fed, which raised interest rates for an 11th time on Wednesday, has maintained a 2% annual target for inflation.
By Cate Chapman, Editor at LinkedIn News

Disinflation keeps equity markets on their positive path, but speed bumps may still lie ahead
This morning's release of June's Personal Consumption Expenditure (PCE) Price Index data is yet another signal that inflation remains on a downhill path, albeit at a measured pace. At 4.1%, year-over-year growth in core PCE prices (which exclude volatile food and energy costs) is at its lowest level since September 2021 (3.9%). (See chart)
While yesterday's pullback in equity #markets indicated that stocks may have become technically overbought, their rebound in the wake of today's PCE report suggests a high level of investor confidence that the end of the current rate cycle is imminent, and that the economy is likely to avoid a recession.
That said, despite an equities trajectory that appears to be "onward and upward," key indicators like wage growth and a tight labor market remain inflationary — and highly influential on the Fed's policy decisions. We'll learn more about labor market conditions next week with the release of July's JOLTs and nonfarm payrolls reports, which, if they fail to show signs of cooling, could inject a dose of volatility into markets.
With the S&P 500 currently within 5% of its all-time high, do you think the index can erase all of its rate-hike cycle losses by the end of the year?

As I anticipated some days ago, various measures of inflation should come down during the summer due to base effects, and today's inflation data confirmed that.
The Year-on-Year and the Month-Over-Month Core PCE indicators decreased considerably during June. MoM, Core PCE came in at 0.2%, in line with expectations and below 0.3% of the previous month. YoY Core PCE came in at 4.1%, slightly below expectation and below last month's release of 4.6%.
I expect that the upcoming report may show some additional softness. However, it wouldn't be surprising if the Core PCE stabilizes at approximately 3.6% and gradually increases.
While the media is currently celebrating this report, it's important to note that it's a lagging indicator. Looking forward, it's becoming apparent that we've already begun to witness the initial signs of the next inflation increase cycle.
Several PMIs have already reversed course, and we have already seen a reacceleration in the residential real estate market. The Philly Fed published an excellent diffusion index of economic activity, and as you can see from one of the charts below, the index popped in the past two-three months.
It does not impact core inflation, but I want my followers to look closely at Gasoline Futures. They are so far up 25% year to date, and we are now at levels seen one year ago. If Gasoline keeps rising, headline inflation might trend up again very soon.
The AAA Gasoline Price indicator is already at 3.72 $ per Gallon. In December 2022, the AAA Price hovered around 2.7$ per Gallon, a considerable increase.
There is also a worrisome possibility of the dollar losing its value if the BOJ decides to abandon Yield Curve Control. It is a well-known fact that Japanese Investors have traditionally shown great interest in purchasing US Government Bonds.
However, if interest rates go up in Japan, they will understandably opt for the local paper instead. This could potentially exert significant pressure on the dollar, which is a cause for concern.
A lower dollar means higher import prices.
I think the Fed will not hike interest rates in September, but we may get a surprise hike in December.
In the meantime, it is risk-on for many asset classes.
Here below, I post several exciting charts.
👀 A summary of the inflation data released this morning
👀 5Y-5Y FWD Inflation Expectation
👀 5Y Breakeven Inflation Rate
👀 the AAA Gas Price by State
👀 Gasoline Price and WTI Evolution YTD
👀 Philly Fed Diffusion Index
Your feedback is greatly appreciated. Your opinion matters to me, and I am always open to hearing what my followers say.