Fed chair hints at more rate hikes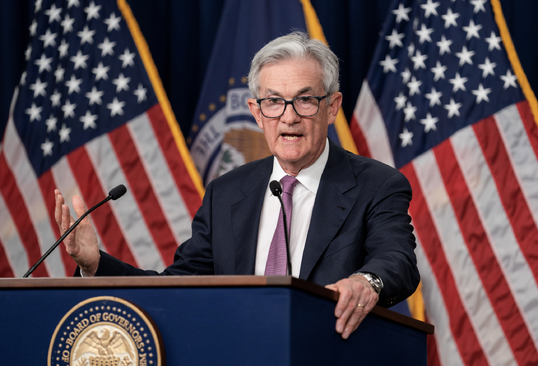 The Federal Reserve on Wednesday reasserted its mission to fight inflation, with Chair Jerome Powell saying that the central bank will likely soon return to raising interest rates. "Getting inflation back down to 2% has a long way to go," Powell said in prepared remarks for testimony he will deliver to the House Financial Services Committee. Inflation stood at 4% year-on-year in May. At the Fed's meeting last week, officials left rates unchanged following 10 straight increases but projected they would hike rates another 0.5 percentage point this year.
In remarks to the Senate Banking Committee, three Federal Reserve nominees stressed their commitment to curbing inflation.
By Cate Chapman, Editor at LinkedIn News

Fed's Powell, in testimony, says inflation fight has "long way to go"
WASHINGTON, June 21 (Reuters) – The Federal Reserve's fight to lower inflation back to its 2% target "has a long way to go," Federal Reserve Chair Jerome Powell said on Wednesday in testimony prepared for delivery to the House Financial Services Committee.
"Inflation has moderated somewhat since the middle of last year," with the Fed's preferred measure of inflation falling substantially from a peak around 7% last year to 4.4% as of April.
But recent progress has been slow.
"Inflation pressures continue to run high, and the process of getting inflation back down to 2% has a long way to go," Powell said, noting that even as the Fed held off raising interest rates at the Federal Open Market Committee meeting last week "nearly all" participants expect further rate increases will be appropriate by the end of the year.
Investors broadly expect increases to resume at the Fed's July meeting, though financial market indicators reflect doubts that the Fed will deliver more increases beyond that meeting.
"My colleagues and I understand the hardship that high inflation is causing, and we remain strongly committed to bringing inflation back down to our 2% goal," Powell was set to tell the House committee, where Republicans hold the majority.
The hearing, the first of two Capitol Hill appearances this week as part of his twice-yearly reports to federal lawmakers, is set to begin at 10 a.m. (1400 GMT). Powell will appear before the Senate Banking Committee on Thursday.

Powell laid out the contours of a debate that has policymakers weighing the continued strength of the U.S. labor market and ongoing "modest" economic growth against the fact that the full impact of rapid Fed rate increases likely has not been felt on the economy as a whole.
"We have been seeing the effects of our policy tightening on demand in the most interest-rate–sensitive sectors of the economy" such as housing, Powell said.
"It will take time, however, for the full effects of monetary restraint to be realized, especially on inflation," Powell said, a fact that has made it increasingly difficult for officials to judge if they have raised interest rates high enough yet to reach their inflation goal, or need to restrain the economy further.
Stress in the banking sector is also creating "headwinds" for households and businesses, the effect of which remains uncertain, Powell said.
Given that situation, and the rapid five percentage points of rate hikes the Fed has approved since March of 2022, the decision not to raise rates last week was taken as a "prudent" step that would "allow the Committee to assess additional information and its implications for monetary policy," Powell said.
Reporting by Howard Schneider; Editing by Andrea Ricci