Exxon pours $4.9B into carbon deal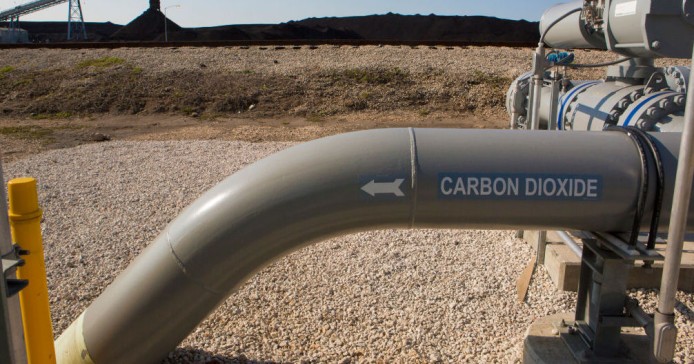 Exxon Mobil is acquiring pipeline operator Denbury in a $4.9 billion deal, a move that cements the oil giant's presence in the carbon-capture market. Texas-based Denbury oversees 1,300 miles of carbon dioxide pipelines on and near the Gulf Coast that will give Exxon "critical and hard-to-replicate infrastructure" as it pours $17 billion into low-carbon initiatives by 2027 and tries to reach net-zero emissions by 2050, Bloomberg reports. Last year's Inflation Reduction Act also provides major tax credits for carbon capture, giving firms a major financial incentive to pursue the technology.
By Saundra Latham, Editor at LinkedIn News

Exxon to buy Denbury for $4.9 billion in carbon storage bet
Signage is seen at an Exxon gas station in Brooklyn, New York City, U.S., November 23, 2021. REUTERS/Andrew Kelly/File Photo
HOUSTON, July 13 (Reuters) – Exxon Mobil Corp (XOM.N) on Thursday agreed to buy Denbury Inc (DEN.N) for $4.9 billion to accelerate its energy transition business with an established carbon dioxide (CO2) sequestration operation.
The acquisition, which sent both companies' shares lower, gives Exxon ready-made CO2 transportation and highlights its bets on making carbon capture a profitable business. U.S. tax credits for reducing planet-warming gases have set off a race to build carbon capture sites.
But wide-scale adoption of carbon sequestration remains uncertain because of the costs and technical challenges, which were reflected in the deal price. Exxon's all-stock offer valued Denbury at a 1.9% premium to its Wednesday closing stock price.
Denbury CEO Chris Kendall said in a statement that "significant capital and years of work" are required to fully develop its CO2 business, making deep-pocketed Exxon "the ideal partner with extensive resources and capabilities."

Plano, Texas-based Denbury is an oil and gas producer that owns and operates a 1,300 mile CO2 pipeline network in the U.S., including pipelines that span the Gulf Coast's petrochemical industry heartland, where Exxon has sought to build a carbon hub.
Jefferies analyst Sam Burwell estimated Exxon was paying $1.9 billion for Denbury's carbon capture infrastructure and $3 billion for its oil production.
"The modest 2% takeout premium suggests to us that Denbury realized the difficulty in competing with Exxon to win CO2 offtake," he wrote in a note.
SHARES FALL
Exxon shares dropped 1.9% to $104.46 in afternoon trading. Denbury shares slipped to $86.62. Its shareholders stand to receive 0.84 of an Exxon share for each Denbury share.
Denbury, which gets most of its revenue from enhanced oil recovery, or pumping CO2 into wells to force out more oil, exited bankruptcy in September 2020 and its stock has jumped nearly fivefold since as carbon sequestration was embraced by U.S. companies to cut greenhouse gas emission.
Its pipeline network and sequestration sites will give Exxon a way to quickly provide carbon removal services to carbon reduction customers such as Linde AG and CF Industries. Exxon's own offshore storage sites are years away.
"It's a very logical, very straightforward way for Exxon to build on its existing business strength in carbon management technology," said Raymond James analyst Pavel Molchanov, but adding the deal is "very small for Exxon, relative to its size."
LOW CARBON BUSINESS
Carbon sequestration has been embraced by oil companies including Chevron (CVX.N), Occidental Petroleum (OXY.N) and Talos Energy (TALO.N), which aim to capture and store CO2 underground.
Exxon two years ago set up its Low Carbon Solutions business with the aim of generating hundreds of billions of dollars in revenue from cutting its and customers' emissions. It has said the business, which includes carbon storage, hydrogen and biofuels, could outperform its traditional oil and gas operations as soon as a decade from now.

Last year, Exxon struck its first commercial carbon storage deal with top ammonia maker CF Industries. In January, Exxon said it plans to start operations at its large-scale hydrogen plant in Texas in 2027 or 2028. Hydrogen is a potential clean fuel for utilities.
The Denbury deal "reflects our determination to profitably grow our low carbon solutions business," Exxon CEO Darren Woods said.
Reporting by Sabrina Valle and Arathy Somasekhar in Houston, Arunima Kumar in Bengaluru; Editing by Savio D'Souza, Shilpi Majumdar and Conor Humphries.