Doctors face surge in cyberbullying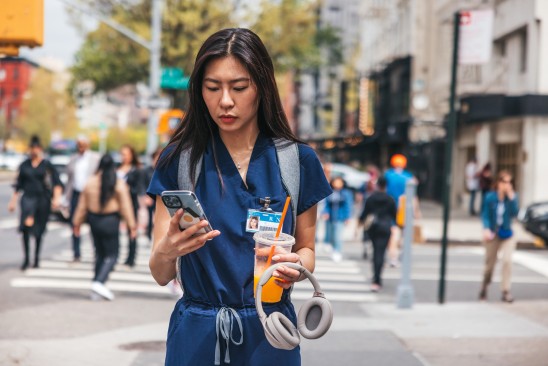 The COVID-19 pandemic wore down physicians in many ways, but perhaps one of the more under-reported has been the spike in harassment they experienced online. Two-thirds of physicians reported online harassment in a study this month in JAMA Network Open. Doctors who posted public health information — particularly about vaccination — were particularly likely to experience threats like stalking, having their personal information revealed or being flooded with negative reviews on rating sites. Prior to the pandemic, only 23.3% of doctors reported online harassment.
By Beth Kutscher, Editor at LinkedIn News

Peter Hotez is not alone: Online harassment of doctors is a public health issue
Father's Day weekend was anything but calm on Twitter, which erupted as vaccine expert Peter Hotez was challenged online to a debate by podcaster and former reality TV host Joe Rogan.
Rogan's challenge began when Hotez, a professor of pediatrics and molecular virology and microbiology at Baylor College of Medicine and vaccine expert, tweeted his concern about Rogan's three-hour interview with longtime anti-vaccine activist and presidential candidate Robert F. Kennedy Jr. on "The Joe Rogan Experience," in which Kennedy shared misinformation and other debunked claims regarding vaccines and their safety.
In response, Rogan said that he had offered Hotez $100,000 for the charity of his choice if he would come on the podcast to debate Kennedy. Hotez declined, explaining later that he did not want to "turn it into the Jerry Springer Show," but instead offered to appear on the show alone to set things straight.
Then Twitter owner Elon Musk tweeted, "He's afraid of a public debate, because he knows he's wrong." Fans of Rogan, Kennedy, and Musk piled on, comparing Hotez to "doctors that experimented on Jews during the Holocaust" and a "war criminal." Anti-vaccine activists even confronted Hotez in person at his private residence.

Unfortunately, Hotez is not alone in his experience with online harassment — particularly its ability to spill over into the "real" world.
Just last week, JAMA Network Open published our study of more than 350 physicians' and scientists' experiences with online harassment. What we found was frightening. In addition to being accosted at their home or place of business, our participants reported doxxing (having personal information posted online), stalking, and professional harms such as review-bombing (posting multiple fake negative reviews online). Two in three physicians reported having experienced harassment. That's up significantly: When we conducted a similar study before the pandemic began, 23.3% of the physicians reported having been harassed.
In the latest study, physicians and scientists like Hotez who use social media to post public health messages were significantly more likely than those who did not to report online harassment. Most (88%) of the physicians who experienced harassment in our study felt that it was caused by their advocacy efforts on social media.
The responses in the recent study horrified us: "I have semi-routinely been harassed with violent threats," wrote one physician, "including menacing messages [like] 'we'll see you soon' … and pictures (such as images of individuals being hung)." Another person wrote, "I've been doxxed several times, including fake social media accounts with my unique name … and Pornhub with my photos mixed in with a nude model."
Hotez's persistence on social media in the face of such online harassment is impressive. It's been reported that many physicians and scientists are leaving or considering modifying their use of social media for their mental health, physical safety, or both. This is deeply troubling as the pandemic shed light on the critical role that social media can play in disseminating medical and scientific knowledge to the public.

More recently, federal officials, including the surgeon general and White House coronavirus coordinator Ashish Jha have called for physicians and scientists to counter health misinformation online. But counting misinformation online becomes a harder sell to health care and science professionals when it comes with both online and in-person threats. Some of our participants highlighted risk to themselves or their families as a reason to avoid public health advocacy. One shared that after she publicly advocated for Covid mitigation in schools, someone took photographs of her in a swimsuit and her young child in a diaper at a public pool without her permission and shared them online as retribution.
Not only do high levels of online harassment contribute to physician burnout, our study suggests this is leading to more physicians and scientists changing the way they use social media. This will leave the propagation of misinformation unchecked by those most qualified to address it. In short, harassment seems to be effective.
Online harassment is not a unique to doctors and scientists. According to a recent Pew study, 40% of Americans have been the subject of online harassment. Half of those who have experienced online attacks cite their political views as the reason. For one-third of those who reported harassment, it was severe, such as sexual harassment, physical threats, or stalking. Unsurprisingly, the public expects social media companies to be held accountable but only 18% believe they are doing a good job at addressing online harassment or bullying. The majority of Americans believe social media companies can improve reporting mechanisms for flagging hateful content (78%), increase user control of their experience (78%), improve transparency (77%), and improve accountability through independent reports of types of harassment (69%). The majority of Americans are directly at odds with Twitter owner Elon Musk's decisions on how to manage hateful content on Twitter, including gutting staff responsible for addressing hateful conduct and targeted harassment on the platform.
The status quo is not acceptable. Regardless of your personal, professional, or political beliefs, everyone should condemn harassment both online and off. Not only do attacks on physicians and scientists threaten the physical and mental health of these individuals, they also threaten public safety by limiting access to scientific and medical expertise in online discussions where false and inaccurate medical information can often thrive and perpetuate. Employers, schools, professional organizations, both in and outside of medicine, should develop toolkits, frameworks, and ways to support victims.
However, to truly address this problem, state and federal policymakers should hold social media and technology companies accountable and also enforce stricter regulations for egregious social media harassment, like doxxing. Peter Hotez deserves it. So do all of us.
Tricia Pendergrast, M.D., is a resident physician at the University of Michigan. Regina Royan, M.D., MPH, is an assistant professor of emergency medicine at the University of Michigan. Vineet Arora, M.D., MAPP, is dean for medical education at the University of Chicago Pritzker School of Medicine. 
By Tricia Pendergrast, Regina Royan and Vineet Arora