Birkenstock sliding toward an IPO?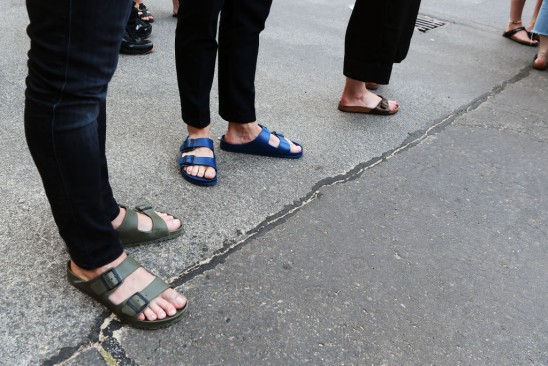 The private equity firm that owns Birkenstock could try an initial public offering on for size as soon as September, anonymous sources have told Bloomberg and the Financial Times. L Catterton, which is backed by French fashion powerhouse LVMH, is reportedly working on a listing that could value the footwear giant at more than $8 billion, and potentially even $10 billion. The sandals have gotten a lift over the past few weeks — both in sales and visibility — thanks to brief cameos in the "Barbie" movie.
By Jake Perez, Editor at LinkedIn News

Birkenstock-owner eyes September IPO
LVMH-backed private equity firm L Catterton, which bought a majority stake in Birkenstock in 2021, is eyeing an $8bn (£6.23bn) valuation for the German sandal brand.
The initial public offering (IPO) could take place in September, The Financial Times reports.
Investment bank Goldman Sachs and financial services firm JP Morgan are advising on the potential listing.
Last month, L Catterton started working with the two financial advisers, when it was revealed the footwear brand could be valued at more than $6bn (£4.7bn) in an IPO.
L Catterton bought a majority stake in Birkenstock for an undisclosed sum in 2021. The descendants of its founder – brothers Alex and Christian Birkenstock, have kept a minority stake.

Birkenstock owner eyes $8bn valuation in September IPO
L Catterton seeks bumper return after buying majority stake in 2021
The private equity owners of German sandal maker Birkenstock are considering an initial public offering of the company that could take place as soon as September, according to people familiar with the matter.
If L Catterton decides to go ahead with the listing, Birkenstock could be valued at more than $8bn, the people added.
An exit at that valuation would mark a bumper return for the private equity firm backed by French luxury fashion house LVMH, which has invested in consumer brands including Scandinavian fashion company Ganni and fitness company ClassPass.
It would also see L Catterton complete the second listing of one of its portfolio companies in a matter of months at a time when many private equity firms are struggling to cash out.
Earlier this month, L Catterton-backed online beauty products retailer Oddity Tech raised more than $400mn when it listed on the Nasdaq stock exchange. One of the people said Birkenstock's IPO may take place later than September.
Goldman Sachs and JPMorgan are advising on the potential listing.
Birkenstock traces its roots back to 1774. It took private equity money for the first time when L Catterton bought a majority stake in the company in 2021 in a deal valuing Birkenstock at €4bn. Two members of the Birkenstock family retain a minority share.
At the time, the company said the money would be used to pursue growth in markets such as China and India, as well as expand its ecommerce business.
Birkenstock employs about 3,000 people and makes most of its footwear in its own factories in Germany. The company's products, which include sandals and other footwear, are sold in some 90 countries across the world.
Bloomberg News earlier reported on Birkenstock's IPO plans.
L Catterton was formed in 2016 when LVMH and Bernard Arnault's family holding company merged with US private equity firm Catterton.
Since then, the firm has grown substantially and now manages approximately $30bn in assets.
L Catterton has also been considering a public listing, the Financial Times reported last year, following in the footsteps of some of its peers, including London-based Bridgepoint, Stockholm-based EQT and New York-based Blue Owl.