The Fed cares a lot about jobs data — but it may be getting mixed signals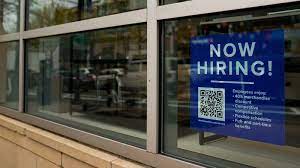 According to private payroll processor ADP, US employers hired 455,000 new workers in June. Meanwhile, in its monthly tally, the Bureau of Labor Statistics said 105,000 new workers were hired. But for August, the two arrived at similar estimates — ADP reported on Wednesday that 177,000 new workers were added last month, and on Friday the BLS reported 187,000 new hires.
It's not uncommon for ADP and the BLS to arrive at quite different answers. At the same time, it's not unusual for them to be similar. But they almost never arrive at the same exact number.
This begs the question: How many workers were really hired in a given month?
The answer matters a lot to Federal Reserve officials who closely monitor the labor market. Since the Fed began hiking interest rates last March, officials have been looking for signs of a slowdown after a hiring boom driven by the pandemic recovery.
Desperate to backfill positions employers cut when the economy came to a standstill at the height of the pandemic, employers have had to raise wages to attract talent. But that contributed to higher levels of inflation.
While inflation has cooled significantly since the onset of the Fed's rate-hiking campaign, it remains above the central bank's 2% target.
Some Fed officials believe more rate hikes are needed to cool the labor market. That could then help slow inflation.
On the other hand, if they see evidence the labor market is on track to cool even more in the coming months they may decide to keep rates where they are absent a spike in inflation.

What's behind the jobs data discrepancies?
ADP and the BLS produce different monthly estimates of how many jobs employers fill each month in part because they rely on different sources of data.
"There's no reason why one month's [data] should look alike," Nela Richardson, chief economist at ADP, told CNN.
Until about a year ago, the objective of ADP's monthly National Employment Report was to forecast the BLS' report, which tends to be released two days after ADP's. But after significant methodology changes a year ago, ADP is no longer structured for that, Richardson said.
Despite the methodology changes, markets still tend to view ADP data as a predictor for the BLS report, said Sarah House, senior economist at Wells Fargo. "Old habits die hard among market participants," she said, "but it's an independent measure."
Now ADP, the nation's largest private payroll processor, produces its monthly National Employment Report by analyzing internal payroll data that covers more than 25 million employees to determine how many new people were hired.
However, the BLS surveys about 122,000 employers, representing approximately a third of all nonfarm payroll jobs in the United States. Every month they ask the sample group of employers to report how many workers they employed, based on their payroll records for the pay period that includes the 12th of the month. Those responses are used to estimate total nonfarm employment in the country.
There are caveats to ADP and BLS data
ADP and the BLS don't have the ability to ask every American if they worked in a given month. So they rely on imperfect statistical calculations that are subject to error.
One of the biggest issues the BLS suffers from is falling response rates to their surveys, which reduces the accuracy of their reports, said Erica Groshen, a former commissioner of the Bureau of Labor Statistics who is now at Cornell University.
Since ADP is a private payroll processor, it does not have access to real-time public-sector employment data. Therefore, its monthly report only covers private-sector employment. That matters because government workers, federal, state and local, account for about 15% of total US employment, according to the BLS.
But the gap between ADP and BLS data does not automatically narrow when comparing ADP to BLS estimates of only private-sector jobs.
For instance, the BLS reported 105,000 jobs were added in June, 86,000 of which came from private-sector hires. ADP reported 455,000 new jobs. That means that the gap was wider even after making an apples-to-apples comparison for private-sector job estimates.
Also, ADP doesn't have direct access to data from employers that use a different payment processing system. To reconcile that, ADP, like the BLS, uses data from the BLS' Quarterly Census of Employment and Wages survey to construct a sample that more accurately depicts current labor market conditions.
Another factor that helps explain the variation is that ADP and the BLS have their own ways of adjusting for seasonality. Both take seasonality into account in their monthly reports, so that one month's data isn't artificially higher or lower based on hiring demands specific to a certain month.

Which gives a more accurate depiction of the labor market?
The QCEW is the most accurate source of data on the state of the labor market, Richardson and Groshen both said.
The report uses data from state unemployment insurance programs that cover 97% of all nonfarm jobs across the nation to estimate with much greater certainty the number of employed and unemployed Americans.
The problem is there's about a six-month reporting lag. For instance, the latest QCEW report, released on August 23, covers first-quarter data from this year. "You can get the truth, but it's going to be the truth six months ago instead of the truth now," Richardson said.
That's why the more up-to-date reports ADP and the BLS produce are valuable, even if they aren't as accurate.
While there's value in both reports, House said, "it's one of just many inputs into how I form my view of the labor market." She said she also studies a slew of other employment data, including small business hiring trends and weekly jobless claims. She said the Fed is likely doing the same.
Between the two, it's difficult to say which is a better predictor of the true state of the labor market.
"I think of these as complements not as competitors," said Groshen.
Ultimately, ADP and BLS data "become checks on each other," she told CNN. And that's good because nothing improves statistics more than some other way of gathering that information, comparing them and saying, 'What could we be doing differently?'"
In fact, she said that if ADP and the BLS were to blend their two sources of data into one report it would likely provide an even more accurate window into the labor market.
Source: CNN