Climate change is hurting Six Flags, SeaWorld and Disney World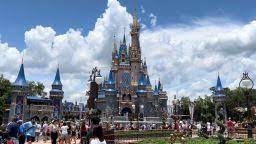 Over the weekend, intense rain and flooding stranded more than 70,000 people at Burning Man in the Nevada desert. It's the latest example of how extreme weather, exacerbated by climate change, impacted major North American attractions this summer.
The largest theme park companies — Six Flags (SIX), SeaWorld and Cedar Point-parent Cedar Fair — all were upended by extreme weather, including deadly flooding in the Northeast, record-breaking heat in the Southwest and California, and wildfires in Canada. Extreme heat in Florida also disrupted attendance at Walt Disney World and Universal Orlando this summer.
These attractions are dependent on weather and climate change poses significant risks to their businesses. Theme parks are building indoor rides and changing ticket policies to respond to brutal weather conditions.

"Weather was the clear driver of weakness in the period across regional theme parks," Paul Golding, an analyst at Macquarie Research, said in a note to clients. Golding has lowered his estimates for the theme park industry because of growing risks from extreme weather.
Cedar Fair (FUN), which also owns Canada's Wonderland in Ontario and Knott's Berry Farm in California, said that Canadian wildfires and extreme heat in California impacted attendance by 300,000 visits during its latest quarter.
"Attendance isn't just driven by the weather in the moment," but the weather when customers buy tickets months in advance, Brian Witherow, Cedar Fair's chief financial officer, said on an earnings call last month.
SeaWorld (SEAS) attendance fell 2% last quarter from the same time a year prior as fewer people visited its outdoor water parks.
The decline was "primarily due to significantly adverse weather," including rainfall and the fallout from Canadian wildfires, SeaWorld's finance chief James Forrester said.
The company has been hit hard by extreme weather in recent years that have caused park closures and attendance drops in Florida, Texas and Virginia. SeaWorld warns in its annual report to investors that extreme weather events could cause it to "incur significant costs."
"The series of extreme weather events experienced in recent years presents an alarming trend," SeaWorld said. "Changing climate conditions could add to the frequency and severity of natural disasters and create additional uncertainty."

"For example, attendance at our parks in 2022 was negatively impacted by Hurricane Ian which led to closures at our parks in Florida and Virginia for a combined 15 operating days," the annual report added.
Meanwhile, Six Flags said its attendance growth fell short of its expectations because of unusually high rainfall in the Northeast and a record heat wave in the South.
"When we have a good day versus a bad weather day, the attendance lift is notable," Six Flags finance chief Gary Mick said on an earnings call last month.
Six Flags is adding more shaded structures, water misters, splash zones and air-conditioned areas. As the weather "continues to be hotter every year," Six Flags will build more indoor and air-conditioned rides and restaurants, Mick said.
Premier Rides, a company that has built roller coasters for Six Flags and other amusement parks, is using more steel in designs to make them last longer in hotter and more extreme conditions, according to the Wall Street Journal.
Theme parks are also beginning to change their policies to offer free return tickets when temperatures hit extreme levels, a sign that parks believe heat waves could hurt attendance in the future.
SeaWorld last month expanded its weather guarantee policy to cover heat indexes above 110.
Source: CNN