Beyoncé wants everyone to wear silver and Etsy sellers are benefiting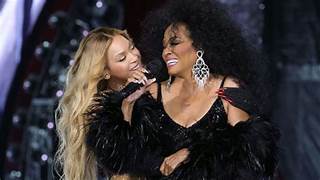 The Queen, better known as Beyoncé, had a dress code in mind for Renaissance tour concert goers attending her "House of Chrome," as she described her concerts.
The superstar made a last-minute request on Aug. 23 on her website to wear silver at the Renaissance Tour in honor of her birthday — September 4 — sending fans scrambling to small business owners. Comparing the week of Aug. 14 to Aug. 21, Etsy reported a 25% increase in searches for disco hats and a 25% increase in searches for silver blouses, corsets, or tops.
TMZ and The New York Times previously reported the Beyoncé-driven Etsy sales uptick.
It started with an online call to action at the start of Virgo season, which runs from Aug. 23 and ends on Sept. 22, and isBeyoncé's astrological star sign. The singer posted on her website: "This tour has been such a joy and as we approach the last month, my birthday wish is to celebrate with you wearing your most fabulous silver fashions to the show 8.23 – 9.22," adding that everyone will "surround ourselves in a shimmering human disco ball each night."

Post pandemic "revenge spending" on experiences like Beyoncé's Renaissance tour and Taylor Swift's Eras tour have boosted the economy this summer, and artisans are reaping the benefits — particularly those who offer glittery products such as disco jewelry, bedazzled cowboy hats, and sparkly sunglasses.
"Virgo Season is upon us," VenuezNVibez wrote in the description for their Beyoncé themed hand fan, which is why customers must order now "if you want to enjoy the full experience that The Queen is serving."
Etsy sellers who spoke with CNN described panicked messages and offers to pay extra for expedited shipping after Beyoncé dropped the surprise announcement days before some shows. For the most part, Erin Fritts, owner of Etsy store EverwindCreationss in Charlotte, North Carolina, said she's been able to send merchandise out the next day and overnight if needed.
Unprecedented sales
At a pivotal moment during each concert, Beyoncé flicks her wrist and pans out her black handheld fan. The crowd waves their own in the air — many of them potentially bought from local Etsy sellers.
Fritts is selling around five to eight silver holographic fans each day. Before the tour, it was around three. She found a holographic and iridescent material and is stocking up for her manufacturer.
"To see Taylor Swift and Beyoncé fueling all of these small business buyers, it's great honestly," Fritts said.
She noticed an uptick in sales for the silver fans around the time Beyoncé requested silver attire, reading review after review of concert attendees using them on the tour. Fritts then plugged the Renaissance tour in the product's description to reach the target audience.
It worked.
"I did not see them becoming my best seller, much less my by-far-best-seller, because of something as random as a concert tour," Fritts said.
Handheld fans, along with the Renaissance album and tour, draw inspiration from Ballroom culture, a Black and Latinx LGBTQ+ subculture that has roots in drag queens organizing pageant competitions at "balls." The ball scene is constructed of "houses," which function as alternative families for those who could be ostracized from their own, where competitors walk the runway or vogue for cash prizes and trophies, said Sydney Baloue, a ballroom historian, writer and artist.
Concertgoers are dressing the part, amplifying the culture along with supporting small businesses.
"Beyoncé collaborated with so many people who were part of that culture," Baloue said. "She added her own flair to it. And it allowed so many new people who otherwise might not at all be privy or even curious about this world get access to the culture."

Steamy summer concerts
The fans' popularity is also for a practical reason. Beyoncé and Swift are packing concertgoers into outdoor stadiums. Extreme heat from Florida to the Southwest and California can make an uncomfortable experience for attendees — and a marketing opportunity for small businesses.
The hand fans are especially in the summer months, Fritts said.
Tracy Swank, who owns SwazzleStudio out of Baltimore, first designed sunglasses for herself and her niece. As more friends were attending Beyoncé and Swift concerts under the unrelenting sun, they requested sunglasses too, eventually leading to an Etsy shop.
For Beyoncé's fanbase, known as the Beyhive, Swank created black and yellow glasses adorned with a bee on them. That demand was quickly replaced with silver bedazzled shades earlier this month after Beyoncé's silver announcement. So far, Swank has earned $800 from selling those glasses.
Accessories matter, from cowboy boots to earrings. One supplier is DaKeitha Bennett, who runs DMoniqueDesigns on Etsy from Flint, Michigan. She's running out of her silver "Cuff It" earrings (after the song) at least once a week after putting up about 20 to 30 pairs.
"I've been a Beyoncé fan since there pretty much was a Beyoncé," Bennett said, adding "it's just incredible to see that she has that type of influence (on sales)."
Source: CNN