Warner Bros. Discovery says actors and writers strikes will cost it up to $500 million this year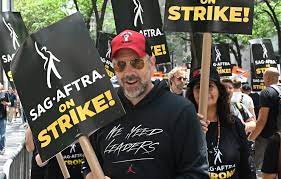 Warner Bros. Discovery trimmed its full-year earnings guidance for 2023 on Tuesday by $300 million to $500 million because of the continued strike by actors and writers, which has stopped production of most shows and movies.
The corporate parent of CNN had previously told investors that it expected the strike to be over by early September. But WBD now says it cannot predict when the strike will ultimately end, and it assumes the impact will continue through the rest of this year.

"WBD is hopeful that these strikes will be resolved soon," said a filing the company made with the Securities and Exchange Commission with its new guidance early Tuesday.
The company said even with the $300 million to $500 million hit to adjusted earnings before interest, taxes, depreciation and amortization, (EBITDA) it expects that key earnings measure to come in at $10.5 billion to $11 billion for the year.
Shares of WBD were up more than 1% in early trading following the filing.
Cash flow is expected to be somewhat higher than previously expected due to a combination of money saved from the lack of film and show production and continued strong box office from its hit movie "Barbie." The film has reported global ticket sales of $1.4 billion, through this past weekend, according to Comscore, making it the biggest box office movie of the year.

The Writers Guild of America, which represents more than 11,000 writers working on movies and shows for the nation's leading studios and streaming services, has been on strike since May 2. SAG-AFTRA, which represents about 160,000 actors, joined the writers on strike on July 14. There has been little signs of progress between the two sides since the strikes started.
Other companies that are being struck include Apple, Amazon, CBS, Disney, NBC Universal, Netflix, Paramount Global and Sony.