16 Ways To Support Employee Well Being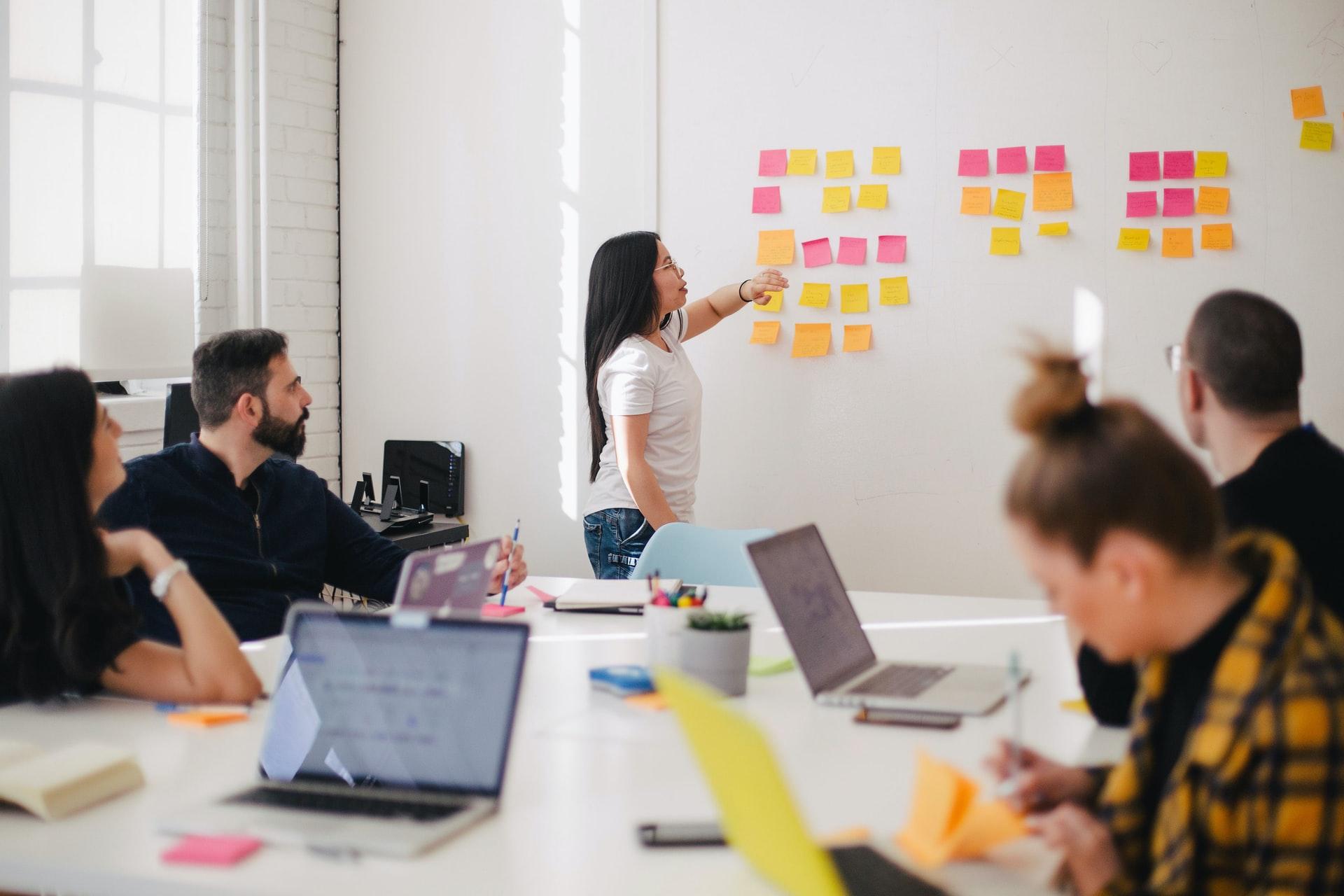 To create a productive and creative workforce it's important to take care of employee well-being. Over the last year or so there's been a renewed focus on workplace well-being, driven by the events of the COVID-19 pandemic. Whether your team is working from home or in the office, employers must take steps to support employee well-being.
1. Offer healthy perks
One of the best ways to support employee well-being is to offer healthy perks. There are plenty of options, including:
Provide exercise classes at your place of work, or an on-site gym.
Offer free fruit and vegetable snacks in the office.
Provide discounts or vouchers on health-based services, (whether it's massages, spas or juice bars).
Free fitness apps are a great way to support the health and wellness of your teams.
2. Improve your office decor
Our surroundings can have a dramatic impact on how we will feel, and how we perform at work. To boost the well-being of your staff try giving your office a revamp. How exactly do you decorate to support well-being? Here are a few ideas:
Use quirky artwork, focus on humorous art, fun quotes, and bright colors.
Give your walls a fresh lick of paint, (colors that are useful to inspire creativity include yellow and orange).
Choose unique and eye-catching features whether it's ornaments or decorative lighting.
Renovate the office when necessary, features that look drab and worn out are a real productivity lull.
Use essential oil diffusers to relax a calm and relaxing atmosphere.

3. Encourage autonomous teams
According to the Ivey Business Journal, autonomous teams are, 'workgroups granted the organizational latitude to establish their own internal goals and work practices.' Encouraging autonomous teams is about giving your staff more responsibility, and avoiding micro-managing. Autonomous teams are designed to allow employees more freedom, resulting in more creative outcomes. Other benefits of promoting autonomous teams include:
Autonomous teams can serve to motivate team members, helping them to feel more engaged in their projects.
Easier for team members to learn new things from each other.
Team members feel relaxed and capable of sharing their ideas.
4. Detailed health & safety training
To support the health and well-being of your employees it's important to provide detailed health & safety training. All employees should have a clear understanding of health & safety policies, they should understand the correct procedures to report safety concerns.
You should perform regular risk assessments of your building, and have your electrical systems inspected regularly. If you have any issues with your systems or require maintenance work you'll need to contact a level 2 electrician.

5. Be flexible
Keeping your employees happy is about offering flexibility where you can. You might be in a position to offer flexible shifts or remote work? Other flexible options include job shares or part-time roles. Flexibility is about respecting the work-life balance, and ensuring that work commitments don't take over. When you make the effort to be flexible, you'll benefit from a happier and more productive workforce.
6. Provide workplace wellness tools
There are many workplace wellness tools designed for teams. If you're looking for a new software tool, these options may be of interest.
Limeade: This tool combines staff well-being with inclusions and engagement. According to Limeade, 'the solution supports the whole employee, addressing mental health, burnout, and turnover.'
Wellness 360: With the help of this tool you can help employees to improve their health, from mental health to fitness. The software offers plenty of features, including coaching, challenges, and wellness rewards.
7. Design a healthy office
Wellness in the workplace is all about providing healthy solutions. When you're designing your office space, ensure that you provide ergonomic workspaces, to keep your employees healthy and safe. Use air purifiers to clean the indoor air, removing harmful toxins and pollutants. Furnish your office with plants, helping your employees to feel peaceful and relaxed. When choosing items for your workplace, look out for eco-friendly materials and brands.
8. Offer opportunities to give back
Research shows that altruistic actions can improve mental health. Seek to get involved in charitable schemes, and allow your staff to volunteer. Giving back to society is a fantastic way to boost your well-being.
Equally, demonstrating your sense of corporate social responsibility is great for branding. Consumers prefer brands that care about important social causes, people want brands to use their voice to bring about positive change.
9. Education on mental health
Employees need to understand the importance of taking care of their mental health. They should know how to prioritize their own well-being, and what to do if a colleague is struggling. Consider offering mental health modules as part of your training. Here are a few useful resources to support mental health:
National Alliance On Mental Illness: The NAMI charity is dedicated to supporting people who experience mental illness. The charity is run by state funding, local affiliates, and volunteers.
Mental Health America: The MHA foundation works on raising awareness and improving lives. On the website, you can find plenty of support resources that may be useful.
10. Gain useful feedback
To help your employees grow, collect their feedback and use this feedback productively. Ask your employees about their work-life balance, find out if they need any extra support with their workplace wellness. Ask them about their ambitions within your company, and support them to create a development plan. With the help of employee feedback, you can focus on any problem areas, and clear these up right away.
11. Work on company culture
According to The Balance, 'Company culture refers to the attitudes and behaviors of a company and its employees. It is evident in the way an organization's people interact with each other, the values they hold, and the decisions they make.' Strive to create a positive company culture within your organization. Help your teams to feel valued, and support them to create good relationships with one another. There are several benefits of improving your company culture, including:
Reduce staff turnover and save money.
Helps to attract the best talent out there.
Can improve employee well-being and drive productivity.
12. Reduce the risk of burn-out
According to Everyone Social,'75% of workers have experienced burnout, with 40% saying they've experienced burnout specifically during the pandemic.' To reduce the risk of burnout you should ensure that your employees do not take on an excessive amount of overtime. Encourage your employees to take enough breaks during the working day. Check-in with your employees regularly to discuss how they are handling their workload.
13. A cycle to work scheme
Offer a cycle to work scheme to help employees keep fit and save the planet. Living sustainability is a great way to improve your well-being. For other ideas to create a greener business, check out the following:
Focus on digital documents and software only, (avoid using paper).
Second-hand furniture items are a great way to save money and go green.
Consider a solar roof to harness energy from the sun.
Improve your recycling schemes where possible.
14. Support team relationships
Creating a healthy and happy workplace is about supporting the relationships between your team members. Organize social events so that your teams have the chance to get to know each other, beyond the workplace. With stronger teams, you'll end up with higher-quality project outcomes.
15. Recognition software
If you're looking to boost well-being, consider improving your employee recognition scheme. You can do this using recognition software, including these options:
Fond: The Fond Platform includes recognition processes and employee rewards. With the help of this platform, employees can easily access rewards and discounts, while praising the achievements of their peers.
Motivosity: This software was designed to help make your employees happier! It's an engagement platform, including staff recognition tools. The tool helps employers to develop a sense of community, feel a connection to their superiors, and feel appreciated for their work.
Cooleaf: With the help of this recognition program you'll drive engagement and performance. The platform combines recognition with several 'virtual team challenges.' The tool can help you to promote learning, collaboration, wellness, and volunteering.
16. Further inspiration
If you need further inspiration to support employee well being, check out these great podcasts:
Workforce Health Engagement: In this podcast by Jesse Lahey you'll learn about how you can improve your employees' health while boosting their productivity. Industry experts talk about how to engage your employees, including topics like wellness and health management. Episodes on the show have talked about 'Boosting Stress Resilience For Employees' and 'Avoiding Workplace Burnout'.
The Redesigning Wellness Podcast: Throughout this podcast, you'll learn about the world of wellness and corporate health. Here you can get plenty of tips to help you build a corporate wellness program. You'll explore topics such as 'Maximizing Leadership Hierarchies', 'Health Coaching', and 'Wellness Trends'.
Supporting the well-being of your employees is about finding the best resources and implementing strategies that suit your company's culture. Don't forget to ask your employees for lots of feedback along the way.